Installing Themes
NOTE: you need to have a copy of WordPress 3.4+ installed on your own server in order to install the theme. You can not install custom themes or plugins on the accounts hosted at WordPress.com
You can install WordPress themes with using: WordPress theme uploader or FTP.
Method 1: Installing Themes With The Uploader
To install themes with the WordPress theme uploader:
Download the theme.zip from the member area
Login to wp-admin
Go to Appearance > Themes
Click on the "Install Themes" tab, then click on the "Upload" link
Upload the theme.zip (note: it is the theme.zip, not theme-psd.zip) that you just downloaded from the member area
Activate the theme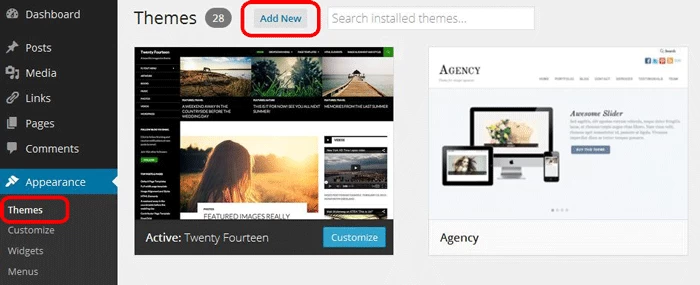 Method 2: Installing Themes With FTP
To install themes via FTP, you need to have a FTP software. If don't have a FTP software or don't know how to use a FTP software, follow the tutorial on FTP. Here are the basic steps on uploading themes to your server:
First extract the theme zip (note: it is the theme .zip, not theme psd.zip) on your local computer
Connect to your server via FTP
Go to the WordPress root folder on your server, then go to "wp-content > themes" folder
Upload the theme folder that you extracted from the zip onto the "themes" folder
Then login to WordPress admin, go to Appearance > Themes
You should see all the uploaded themes. Click on the "Activate" link to activate the theme (see screenshot below):
Common Issues
I don't see a zip file after downloaded
Some browsers (eg. Safari) auto extract the .zip file. Try to right-click on the download link and select download file as.
If you are using Safari, you can also disable the auto open feature: go to Safari > Preference and uncheck Open safe files after downloading.
WordPress says theme is broken or missing a stylesheet
Make sure you upload the theme.zip file, not theme-psd.zip file. The theme-psd.zip is the Photoshop mockup file.