Video Embeds
WordPress Video URL Embed in Content Box
To embed a video in the post, simply paste the video embed URL in the content box (note: it must be a plain text URL, not a clickable link or iframe or object embed code). WordPress will convert the video URL into a video embed automatically using the embed feature. Note that not all video providers are supported, read the official embed documentation for more details.
Below are some sample video embed URLs:
Vimeo: http://vimeo.com/6929537
YouTube: //www.youtube.com/watch?v=NmRTreaCJXs
DailyMotion: http://www.dailymotion.com/embed/video/xn090k
Blip.TV: http://blip.tv/play/AYLkkhYC.html
Video URL in Custom Panel
Some of our themes come with the Video URL input field in the post's Themify Custom Panel. You may also insert the video URL there. If the post contains Video URL custom field, it will display the video rather than the Post Image. In other words, the Video URL in the custom panel has higher priority.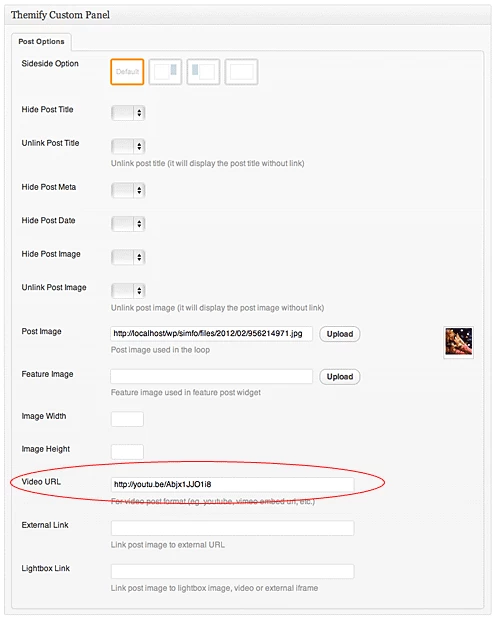 Responsive/Elastic Videos
If you are using a responsive design theme and embedding the videos using the traditional embed code (such as iframe or object tag), you need to add a <p class='post-video'> wrapped around the video to make it responsive. The .post-video class in the stylesheet will make the video fullwidth and elastic automatically.
Example:
<div class='post-video'>
[iframe embed code]
</div>
Video Max Width
If you want to restrict the video to certain size, add width style in the wrapper:
<div class='post-video' style='max-width: 500px'>
[iframe embed code]
</div>
Responsive Video Embed Plugin
FitVids is a plugin that makes the video embeds responsive automatically. It is handy if your existing posts are using the manual embed code instead of WordPress embed and you want to make them responsive. Install the plugin and then go to the plugin setting page (under Appearance tab), enter .post in the CSS selector option field as shown on the screenshot.