Koi Free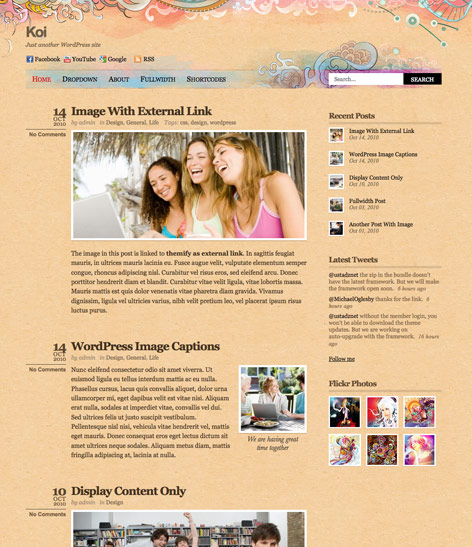 New: Drag & Drop Builder!
Themify Builder, an intuitive way to build beautiful designs and layouts by dragging and dropping your content. Get it with a Themify theme or as a plugin that works on any theme.
Demo → Download or Get All Themes $69 buy 1 get 1 free
Koi is a simplified version of N.Design's theme. It is an artistic theme and suitable for most personal blogs. Koi is one of the top used themes on WordPress.com. The theme supports the WordPress 3.0 new features such as custom menus and child themes but is still backwards compitable with older versions of WordPress. Read related post.
Features
Threaded comments
Custom menus.
Multiple-level dropdown menus.
Header widget to add social media buttons.
One sidebar and three footer widget areas.
Custom footer text.
Child theme support.
Backward compitable with older WordPress versions.