Translating Input Text With WPML
WPML allows you to translate not only your posts content but also any text input in theme settings. For example, let's show different translated texts in the Welcome Message module included in some Themify themes.
Before following the steps outlined here, you must have WPML correctly setup following its assistant instructions and have the String Translation module enabled.
Set the text in the original language
First, set your text in the field where you need it in the original language. Image below shows a welcome message.

Once you're satisfied with your text, save the change.
Translating it with String Translation
Now go to WPML > String Translation and you'll see a list of strings input in the theme. Your text will be here, as shown in the image below.

Click on the translations link, a panel will appear. Enter your translations, mark them as complete and click Save.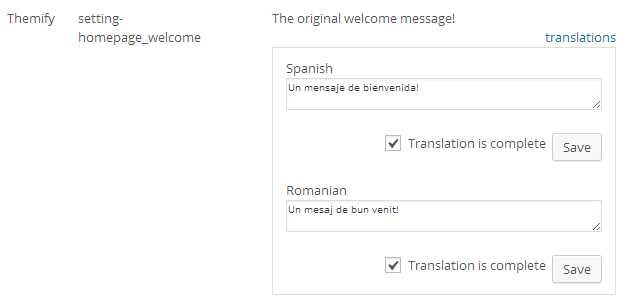 Checking in front end
Your translation is complete. If you go to the front end, you can switch languages and see your translated text. In this example, the Simfo theme is shown, with its translated welcome text.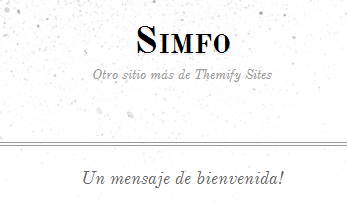 Special case: the "More" text.
This text is different for certain reasons, but it can also be translated. Just clear the field in the theme settings.

go to String Translation again, look for More → and repeat the process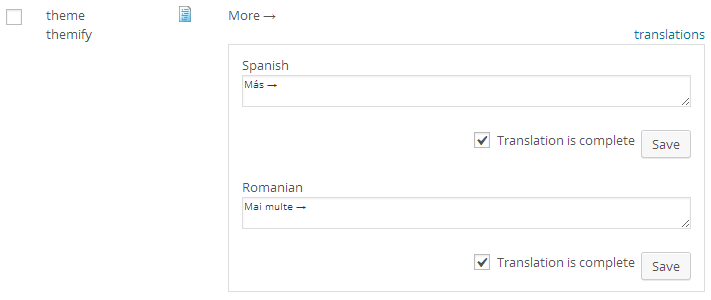 and now the translated "more" is available at the end of the posts.