25 May 2016
We hope you enjoy the recent PTB Bundle release and the Builder responsive styling.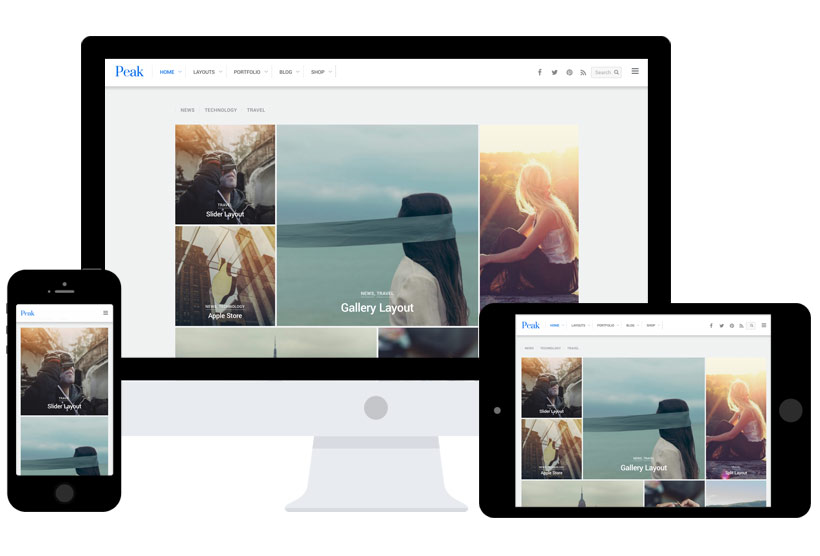 Today we have another awesome theme release—welcome the Peak theme!
It has been a long long time since we released the last premium theme Infinite, but the quality of this theme is worth the wait. Peak is built to be a modern, grid-based WordPress theme. We built Peak with masonry tiles in mind: a modern-day concept for building responsive websites, on a grid, that can adapt itself to any device or display resolution that you can throw at it. The Peak theme is built with automatically generated tile sizes, but also allows you to create a custom tile size for your content, and Peak does all of the heavy lifting to make sure that your layout remains responsive and beautiful on any resolution.
As with any Themify theme, Peak comes with the incredibly robust and flexible Themify backend. Our backend provides all of the customization that you could ever need for your blogs, magazines, portfolios, and even ecommerce storefronts, including these amazing features in Peak: create custom layouts for archive views and single posts, assign posts as the new Portfolio post type for showcasing your original work, building optional mega menus for displaying recent posts or multi-column menus or widgets, slotting in customizable slide-out widget panels, assigning unique page title banners on any post or page or category, and even create a customized 404 error page to really personalize your site! As a bonus, we've also created matching styles for WooCommerce with Peak theme, making it easy to sell merchandise on your site as well.
With all of these incredibly powerful features, the Peak theme makes it easier than ever to build beautiful and responsive websites on WordPress. Themify Builder and Peak are a dream come true for anyone looking for a fresh look for their blogs, magazines, portfolios, and ecommerce stores.
30% PEAK Theme Sale
To celebrate the release of this awesome theme, we're giving everyone a 30% discount to purchase the new Peak theme! Simply use the coupon code PEAK and start saving. This offer is only valid until May 31, 2016, so be sure to take advantage and get this theme now!