26 Nov 2014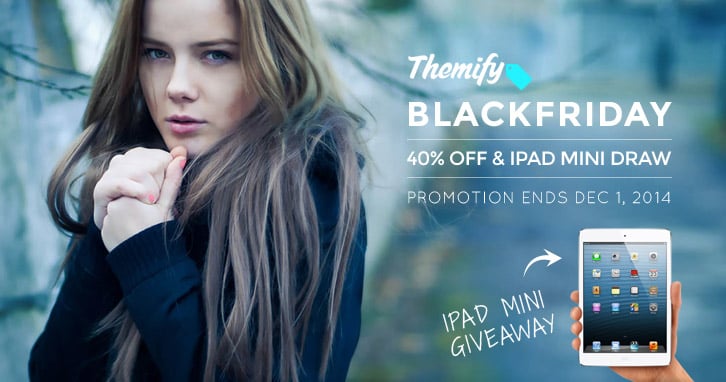 Update: Congratulations Mark Shannon for winning the #Themify_iPad_draw!
Thanks for the incredible Christmas gift, @themify! So much happy for this Santa hat-wearing nerd! pic.twitter.com/eyFH2JJKpy

— Mark Shannon (@mkshft) December 25, 2014
Get ready for an amazing Black Friday/Cyber Monday super sale and an iPad Mini giveaway!
To thank all of you for continuously supporting Themify, we've decided to kick off your holiday spirit with an early BlackFriday sale and an iPad giveaway. Starting today until December 1st 2014, we're offering 40% off for all purchases. This includes Club memberships, plugins, Builder Addons, and WordPress themes.
Simply use this coupon code to redeem the 40% discount: BLACKFRIDAY
iPad Mini Giveaway!
As our way of saying thanks, we're giving out a free iPad Mini. Simply share a message via your Twitter or Facebook account to enter the draw.
How to enter:
Social share on Twitter:

Tweet a message about our promotion with the hashtag #themify_ipad_draw
Make sure to mention us @themify so we can keep track of your entry
Make sure to follow @themify on Twitter as the selected winner will be sent a direct message
Sample: Check out @themify 40% BLACKFRIDAY deal and the #themify_ipad_draw - https://themify.me

or
Social share on Facebook:
Contest rules:
No purchase or payment necessary to enter or win.
Entry ends on December 1, 2014 11:59PM EST
The winner will be announced on Dec 5, 2014 on all social media platform
The iPad Mini (first generation, white,16GB Wi-Fi) will be shipped to the winner where shipping is applicable from the Apple Store
Good luck and happy Black Friday!