24 Nov 2016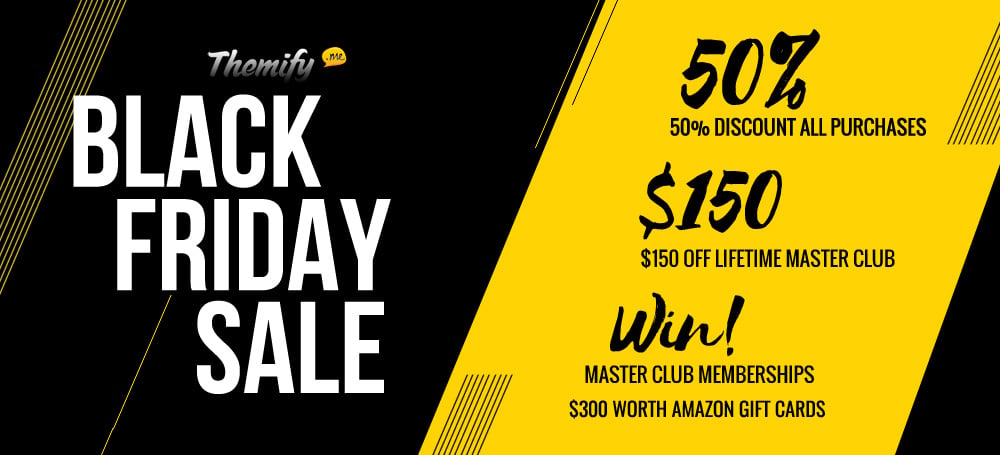 Update: Congratulations to our lucky winners!
Lucky 3 $100 Amazon Gift Card + Master Club membership winners
Alexandros Christou
Gayle Bertrand
Lance Brown
Lucky 7 Master Club membership winners
Frank Puschmann
Tim Chadwick
Selvin Melendez
Christina Almond
Scott Ingram
Sandipan Mukherjee
Jaime Guerra
For 4 days Only Get Never-Before Seen Discounts & Giveaways!
50% OFF All Purchases
You can now get a jaw dropping 50% discount on all Club Memberships (excluding Lifetime Master Club), plugins, Builder Addons, and WordPress themes. We're even allowing users to take advantage of this crazy deal and use it for membership upgrades, and renewals!
Simply use the coupon code: BLACKFRIDAY to redeem this discount.
$150 OFF Lifetime Master Club
On top of this epic sale, for the first time ever, we're also giving a $150 discount on all Lifetime Master Club purchases. Just use the coupon code BLACKFRIDAYLIFE and get the Lifetime Master Club for only $249!
Win a $100 Amazon Gift Card & a Free Master Club Membership!
We're selecting 10 lucky winners to receive a Master Club, and 3 of the lucky 10 will receive a $100 Amazon Gift Card. For 4 days only, all you have to do is go to our homepage and submit an entry. The more entries the more chances of winning a free Master Club + $100 Amazon gift card!
This promotion ends on Cyber Monday November 28, 2016 @ 11:59pm EST, so be sure to take advantage of this amazing deal now!
Good luck and Happy Black Friday/Cyber Monday!