10 Aug 2012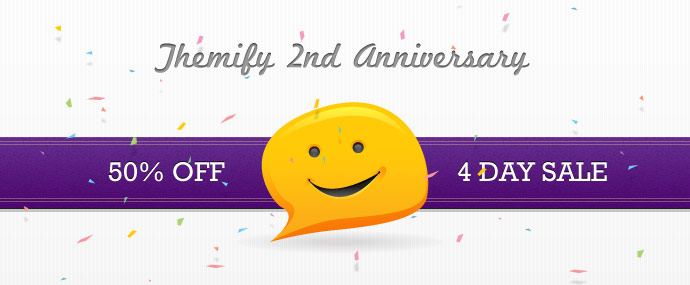 Tomorrow marks another fantastic year for Themify — it is our second aniversary! We would like to thank everyone for supporting Themify. To celebrate this big day, we are having a HUGE sale and giveaways. From today to next Monday August 13, 2012, we are running a 50% sale off all themes and club memberships. That is $34.50 to join our Standard Club (normally $69) to get all themes or $19.50 to get any 2 Standard themes. Enter coupon code 'happy2' on the sign up form to redeem the discount. This promotion also applies to the existing members, so this is a good time to stock up more themes. Hurry, sale like this only happens once in a year.
The Giveaway
For those who have never tried our themes, here is a good opportunity to get our themes and club memberships for free. Just tweet a message for us and paste your tweet URL in this post to enter the draw. We will randomly select 5 winners to receive any 2 Developer themes and 3 winners to get one year of free Developer Club membership.
How to enter the giveaway:
Follow @themify on Twitter if you haven't done so (optional)
Then tweet the following message (copy exactly):


Themify is running a 50% sale to celebrate their second year anniversary. Don't miss it: http://bit.ly/QL1wCf

And then paste your tweet url in this blog post (you can get the url of your tweet by clicking on the date/time stamp of your tweet on the Twitter.com site)
Contest ends on Aug 14, 2012. Good luck everyone!
Update:
The contest is over and the winners are:
Developer Theme winners: Caren, David Wang, Melissa, Jo Bjørnar Hausnes, and Surender Markam
Devloper Club winners: Jesse Shanks, Levisan, and Nadia Lee