Infinite Background
Installing Builder Addons
Installing Builder Addons is exactly the same as installing WordPress plugins.
To install the addon:
Firstly, download the addon zip file from the link provided in your Themify Member Area.

NOTE: some browsers (eg. Safari) auto extract zip files automatically. Right-click on the download link and select "Save Linked File As" and it will allow you to download as a zip file.

Login to your site's admin area.
Navigate to WP Admin > Plugins > Add New.
Now, click the "Upload Plugin" link.
Select "Browse" and navigate to the plugin zip file which you downloaded in the first step and then select the "Install Now" button.
This will initiate the plugin installation process, and once finished, you can then activate the plugin.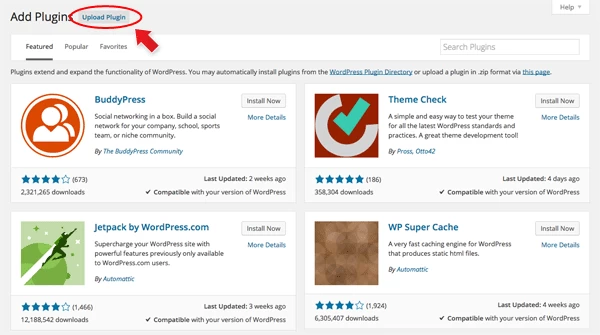 Importing the addon demo layout
Each addon zip file contains a sample Builder data file which you can import to your site. It helps you to understand how the addon demo is created.
To import the addon demo data:
First, extract addon zip file to your local computer
You should have a folder of the addon. Inside there is a folder named "sample", and inside that folder there is a Builder data file in a zip format (eg. "addon_name_sample-builder-layout.zip").
To import the Builder layout, login to admin and then go to the page frontend where you want to import the Builder layout. From the top admin bar > select Themify Builder > Import / Export > Import, upload the sample zip file.
Using the Infinite Background Addon
Unlike many of the other Builder addons the Infinite Background doesn't have it's own module. Instead, once this addon is activated, it'll be automatically be built-in into every row on your site. It'll appear as an additional feature for your row background. Check out the screenshot image below to see how it'll look like.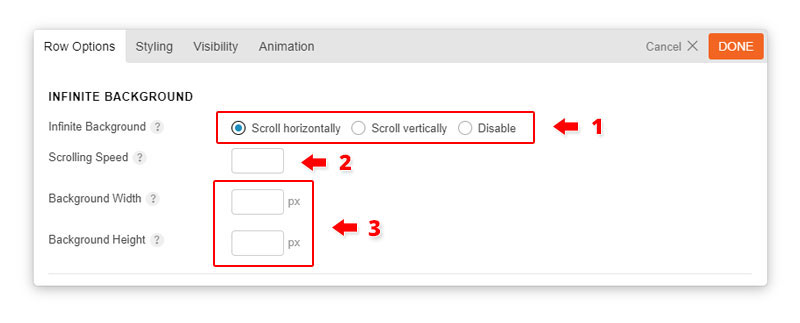 Infitine Background Image - Choose how you would like your background image to scroll. Either horizontally or vertically.
Scrolling Speed - This outlines the speed of the scrolling of the images the row.
Background Width and Height - Input the exact image size so that the images will scroll smoothly.