Store Locator Documentation
Installing the Plugin
To install the plugin:
Download the free plugin zip from our Plugins page.

Note: Some browsers (e.g. Safari) may auto-extract ZIP files. Right-clicking on the download link and selecting "Save Linked File As" will allow you to download the ZIP version.

Then go to your WP Admin > Plugins > Add New > Upload Plugin
Now upload the plugin zip file and click "Install Now".
After the plugin is installed, click "Activate Plugin" to activate the plugin.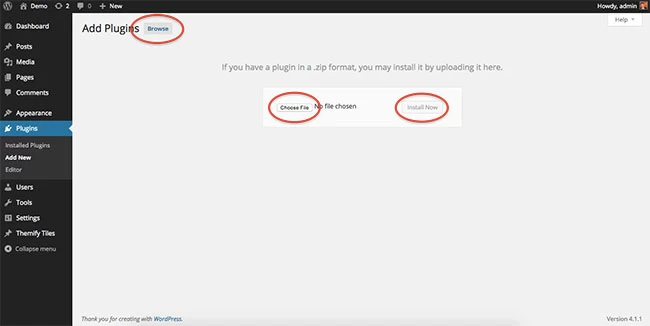 FYI: If you can't install the plugin using WordPress plugin installer, you may also use a FTP software to install the plugin. To install plugins with an FTP method: extract the plugin zip on your local computer then upload the plugin folder to your FTP server where you installed WordPress > wp-content > plugins folder. After, login to your WP Admin > Plugins to activate the plugin.
Developed by Themify, Store Locator is a simple plugin that allows you to display an unlimited number of locations on a map, list, or grid view.
Using the Store Locator
Once you activate the plugin, you will see, a "Store Location" on the WP-admin sidebar. Follow the steps below to add your store locations on any page/post. (NOTE: you need at least one location in order to display the location/map):
Step 1: Add New Locations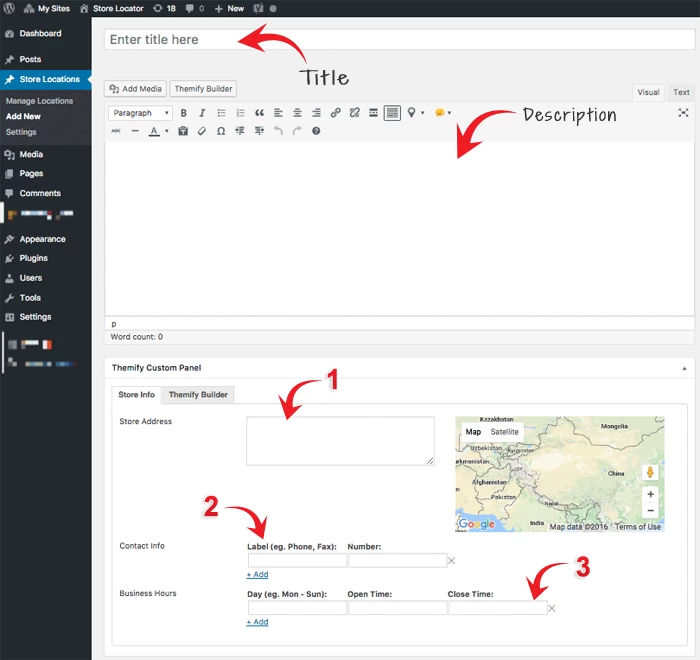 To add a location, go to your WP Admin > Store Locations > Click on "Add New"
Enter the following options:

Post Title - Store location title
Content Editor - Will be used as the location description
On the Themify Custom Panel (scroll down to view), enter the following:

Store Address - Location address
Contact Info - Custom label and number of store location (ie. for phone, fax, mobile numbers)
Business Hours - Input days of operation with open and closing times
Step 2: To Display Locations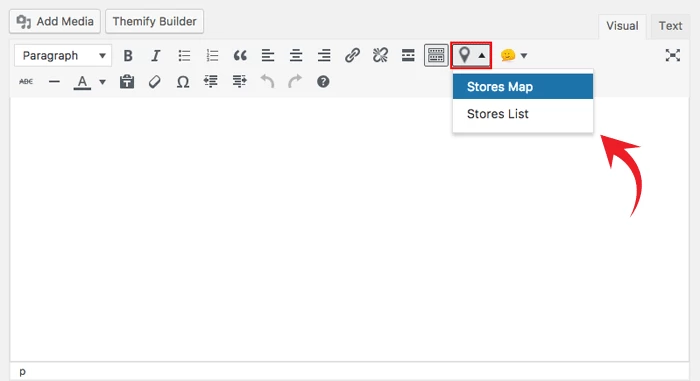 Add or edit an existing page
On the text editor, click on the Store Locator shortcode generator (the location icon in the red box above), and select how you would like to show your locations:

"Store Map" - To show a map with all your locations as map with map markers
"Store List" - To show your locations in a list form

Input the parameters (read shortcodes for mode detail) on the popup lightbox to generate the shortcode. Once you click OK, it will generate a shortcode in the editor (TIPS: You can copy & paste the shortcode to display elsewhere like a sidebar Text widget).
Shortcodes
Map View Shortcode
[tsl_map width="100%" height="500px" map_controls="yes" scrollwheel="no" mobile_draggable="no"]
width - Input the width of the map in px or %
height - Input the height of the map in px or %
map_controls - This allows you to enable or disable the map controls that appear on the left side of the map
scrollwheel - Enable or disable the ability for users to zoom in and out of your map by scrolling either up or down
mobile_draggable - Enable or disable the ability for users to drag your map on mobile
Store List Shortcode
[tsl_stores posts_per_page="8"  layout="grid4" hours="yes" contact="yes" description="no" unlink_title="no" pagination="yes" orderby="title" order="asc"]
post_per_page - Input # of posts that will appear on the list
layout - Select list layout: Fullwidth, Grid 4, 3, 2
contact - Show or hide contact field
hours - Show or hide hours field
description - Show or hide description field
feature_image - Show or hide featured image of each post
unlink_title - Link or unlink the post title to single post
pagination - Show or hide pagination
order = specifies ascendent or descendent order (ASC, DES, default = DES)
orderby = criteria used to order posts (author, comment_count, date, menu_order, rand, title, default = date)
Reinstall Plugin
In the event there are issues/bugs with the plugin or you can't auto update the plugin, try to reinstall it with the latest version. Since WP 5.9, you can reinstall plugins by re-uploading the plugin zip. Reinstalling the plugin shouldn't affect the content/data because they are saved separately in the database. To be safe, you should backup your WordPress site before reinstalling it.
To reinstall a plugin:
Download the latest plugin zip
Go your site WP Admin > Plugins > Add new
Then upload the new plugin zip and WordPress will ask if you want to replace the current version, click "Replace current with uploaded"