Notes: New Responsive Tumblr-Like Theme
Notes is our latest addition in the Post Format category. It allows you to use WordPress to post various post formats such as image, video, gallery, audio, quote, etc. like Tumblr blog. The theme design is inspired by the iPhone Notes app. It is a modern design theme with personal touches (light textured background and a bookmark ribbon). Also, it is another awesome responsive design theme that we've added. The layout is fluid and automatically adapted to any resolution on both desktop and mobile devices such as iPhone, iPad, Andriod, and Blackberry. To see this in action, view the demo and resize the browser window.
We are offering 30% disount code for this new theme. Use the coupon code "notes" for a 30% discount off this theme until March 23, 2012.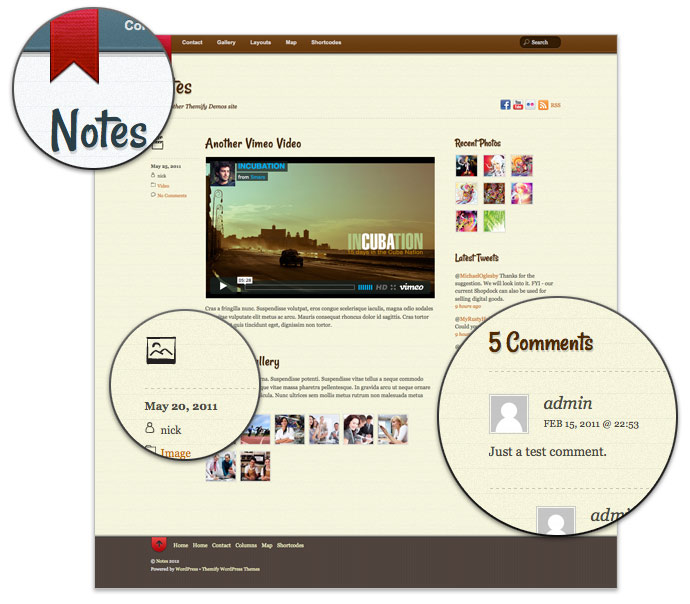 Responsive Design
With the responsive design, Notes delivers consistent layout to your readers whether it is on desktop or mobile devices such as iPhone, iPad, Blackberry or Andriod (view the demo and resize the browser window or with a mobile device).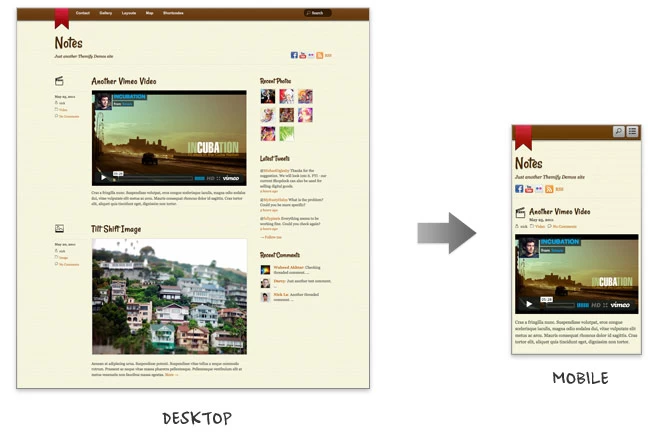 Post Formats (Tumblr-like)
Notes comes with all native WordPress post format supports: gallery, video, image, audio, quote, etc. You can use it to turn your WordPress into a Tumblr blog. If you are not a big fan of Tumblr, then leave the post format as default. The post formats are optional.

Footer Menu and Widgets
The footer includes customizable footer widgets, footer menu, and an animated "back to top" button.

7 Additional Skins
The theme is packed with 7 additonal skins.