24 Jun 2019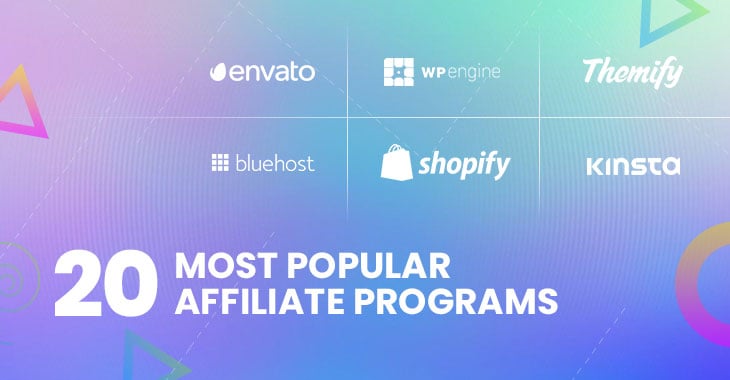 We recently wrote about the best ways you could make money off of your blog and mentioned that taking part in affiliate programs were one of the most popular and easiest methods. Affiliate marketing in a nutshell allows you to earn a commission every time a reader clicks one of your links or uses your promo code to purchase a product on another business' site.
This affiliate link you receive upon signing up is unique and is usually tracked by cookies. 'Cookie length' or 'cookie life' in affiliate marketing is basically the duration that your commission will be tracked. So if a cookie has a 30-day life, even if your reader doesn't purchase a product right away, you will still receive a commission if your reader comes back within 30 days to make their purchase.
As you can imagine, you can easily start monetizing your blog and create a profit by including links to products and services available online, especially if you find that it pertains to your blog and is useful to your readers. We would like to recommend that you use affiliate links while adhering to best practices including the use of disclaimers and aligning yourself with products you actually love. This would help ensure you continue to build the trust and confidence your readers have in you.
 
There are many types of affiliate programs and include the selling of physical products, software, and services like memberships and online courses. If you need tips to get your blog site prepped to sell affiliate products, use our easy guide on creating an Amazon affiliate website using WordPress & WooCommerce.
With that, let's dive right in to our list of the 20 best and most popular affiliate programs.
1. Themify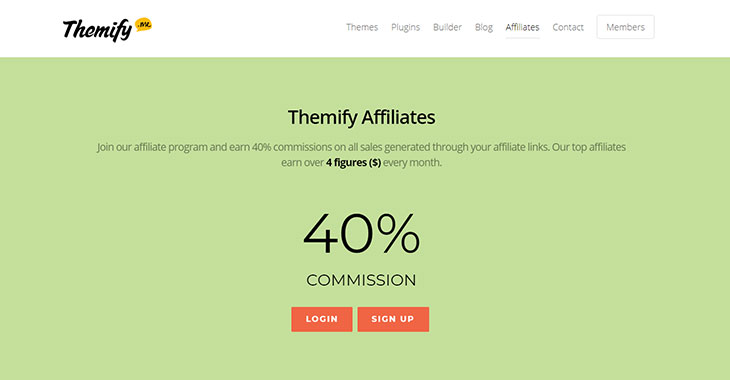 Themify's commitment to providing users a powerful website builder with amazing features, for a fraction of the cost is what drives them. As a Themify Affiliate you earn a massive 40% of every sale of any product.
Commission: 40%
Cookie life: 60 days
2. HubSpot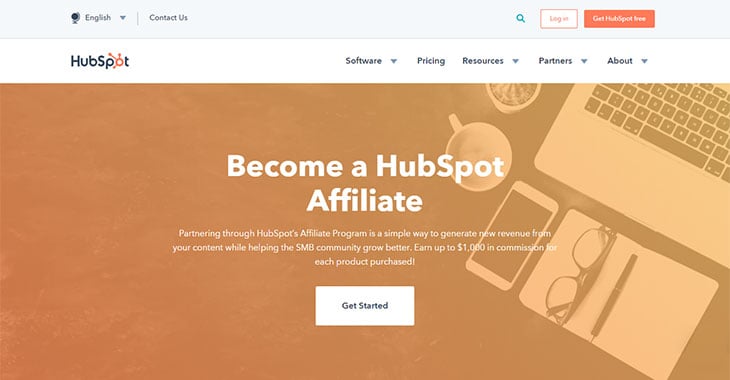 HubSpot offers marketing, sales, and customer service tools for business. Their  affiliate program is tiered so you can earn anywhere from $250 to $1000.
Commission: $250 starting
Cookie life: 90 days
3. WP Engine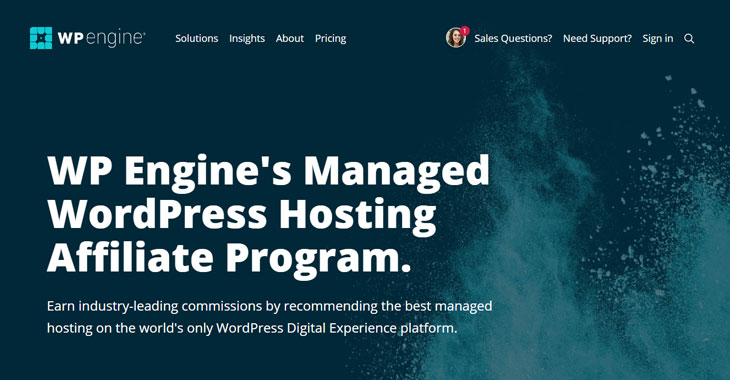 WP Engine is another top WordPress host and boasts an industry leading affiliate program starting at $200 minimum. Their plans may be a priced a little higher, but the commission tiers (bonuses for 5 or 10 sales) are worth checking out.
Commission: $200
Cookie life: 180 days
4. HostPapa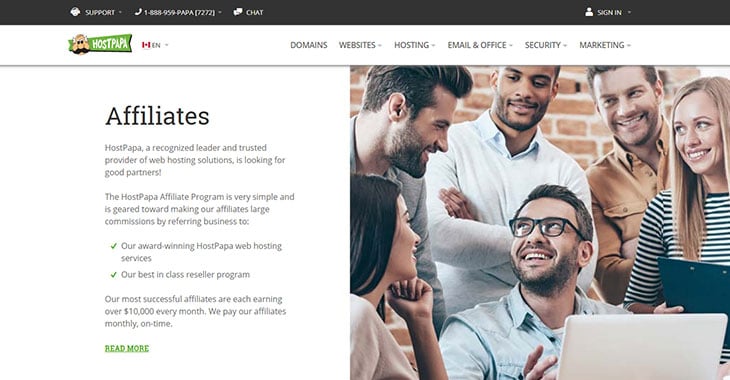 HostPapa is a popular web hosting platform with a minimum payout of $75 and the possibility to make up to $170. They also provide affiliates with a large discount to offer their readers as well.
Commission: $75 starting
Cookie life: unknown
5. Bluehost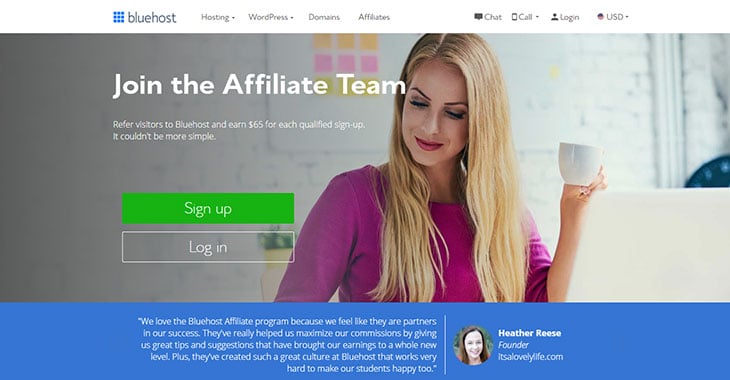 One of the most frequently recommended WordPress hosts, Bluehost offers a range of pricing plans, massive discounts for affiliates to offer their readers, and no cap on commissions earned.
Commission: $65 starting
Cookie life: 60 days
6. Shopify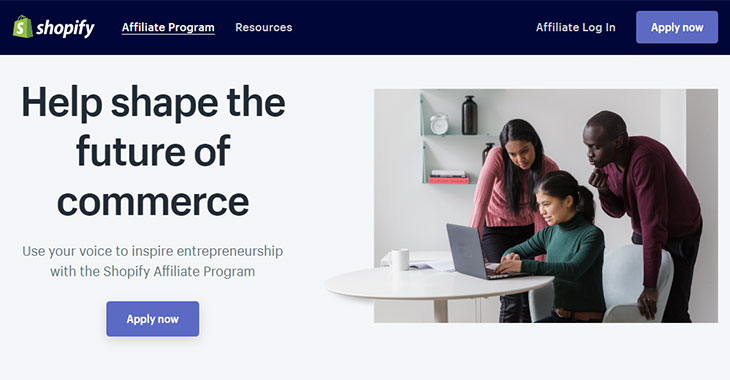 Shopify is one of the leading eCommerce store providers and their affiliate program leads the way by offering you the first two month's of a new user's subscription fee. Plans range from $29 to $299 per month.
Commission: $58 starting
Cookie life: 30 days
7. SiteGround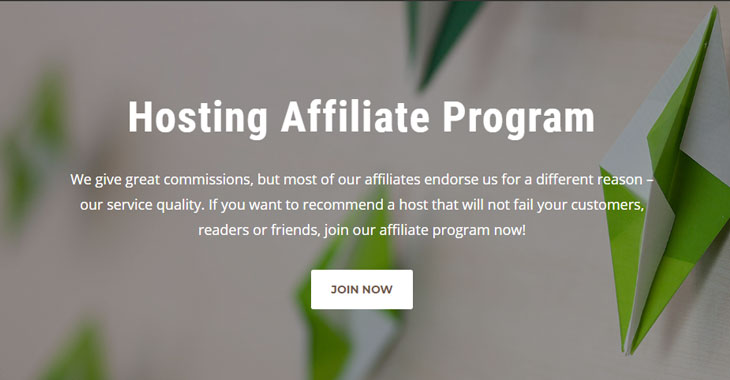 Another popular web hosting service, SiteGround offers a tiered affiliate program, and you can earn anywhere from $50 to $100, depending on the number of sales you generate per month.
Commission: $50 starting
Cookie life: 60 days
8. Kinsta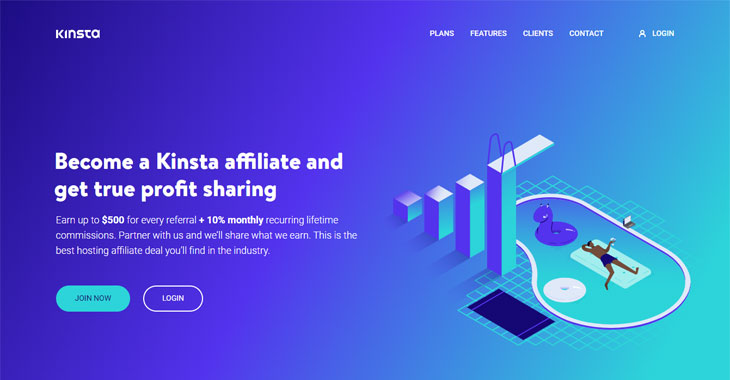 Kinsta is a premium WordPress hosting platform, offering a minimum of $50 for an initial signup, and a special 10% monthly recurring affiliate commission.
Commission: $50 starting
Cookie life: 60 days
9. HostGator
Advertised as an easy and affordable web hosting service, HostGator accommodates small business and larger enterprises. Their affiliate program is competitive and tiered, starting from $50 per signup to $125 per signup every month.
Commission: $50 starting
Cookie life: 60 days
10. AWeber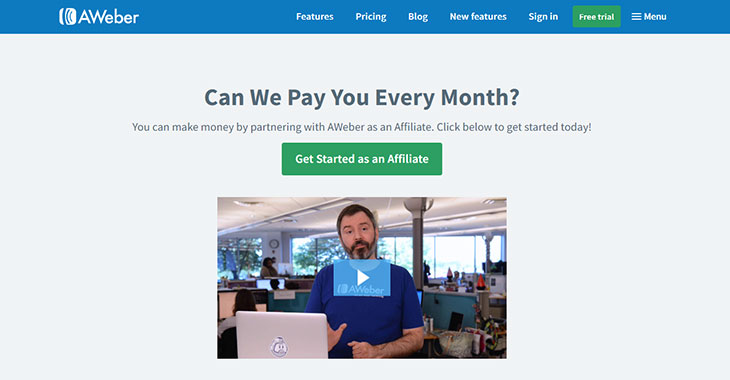 Aweber is an email marketing platform offering email templates for entrepreneurs and marketing businesses. Their affiliate program offers a 30% recurring commission on any sale and their cookie life is super generous at a full year.
Commission: 30%
Cookie life: 1 Year
11. LeadPages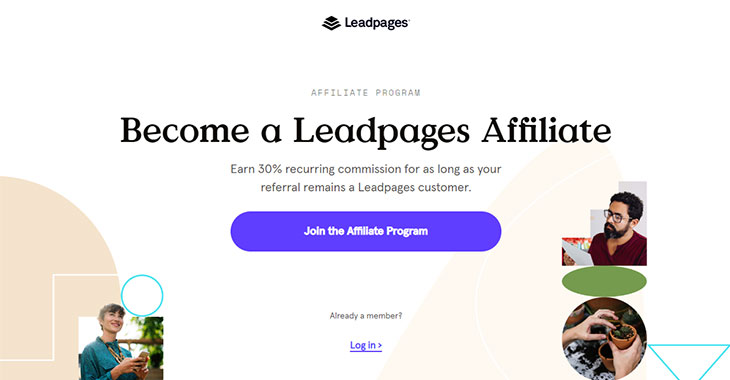 LeadPages is a landing page builder focusing on digital tools that help you convert visitors to customers. Their affiliate program seems open to customers and non-customers alike, with a lifetime commission of 30%, and memberships ranging from $25 to $200 a month.
Commission: 30% recurring
Cookie life: 30 days
12. Envato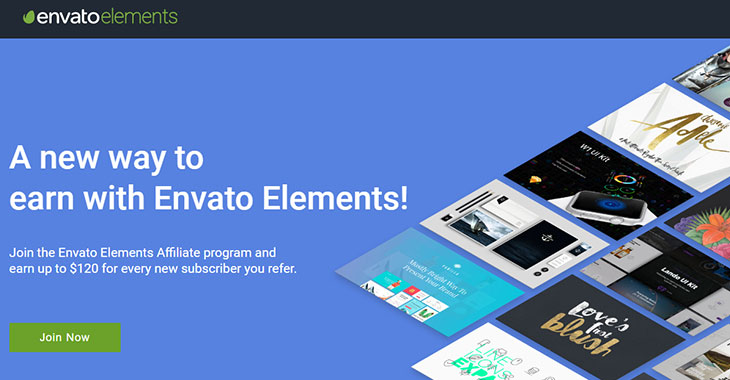 Envato is an online library of creative and digital products for members. For monthly subscribers using your affiliate link, you will receive $20 a month for up to 3 months ($60 total), or $120 for every new annual subscriber.
Commission: $20 starting
Cookie life: 60 days
13. Fiverr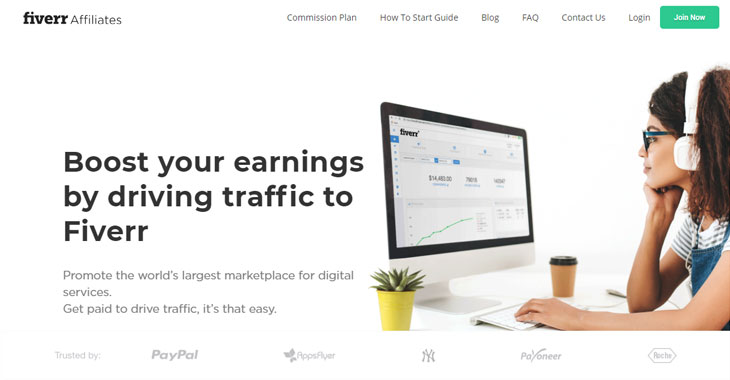 Fiverr is a hub for digital freelance services, allowing you to search or provide your professional skills for hire. Their affiliate program let you earn anywhere from $15 to $50 for every first-time buyer, depending on what they purchase, with a huge cookie life of 1 year.
Commission: $15 starting
Cookie life: 1 Year
14. ConvertKit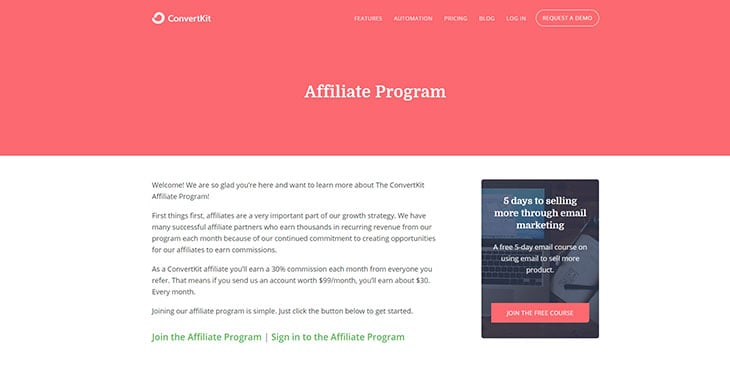 ConvertKit is a well-loved email marketing tool in the blogging world and help you grow your reader-base with sharp forms and website action tools. Their program allows for a lifelong 30% commission for every customer, with plans ranging from $29 to $2000.
Commission: 30%
Cookie life: 30 days
15. LiveChat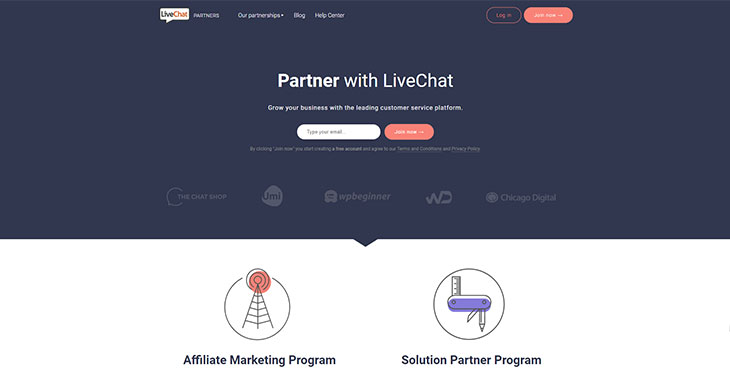 An online chat and help desk service, LiveChat helps with engaging the visitors on your website and turning leads into sales. They offer a 20% recurring commission for every customer and a massive 5 months of cookie life.
Commission: 20% recurring
Cookie life: 120 days
16. ShareASale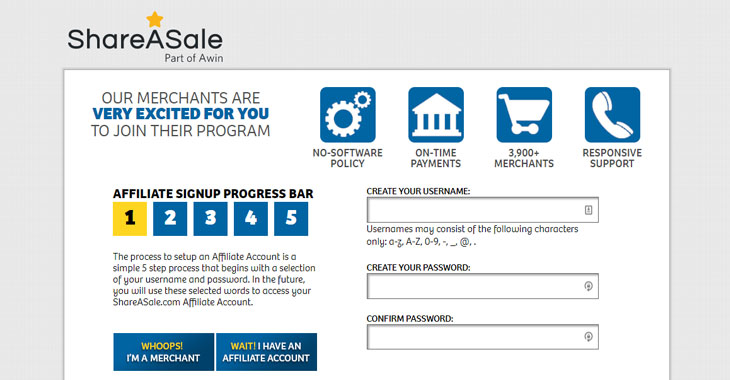 ShareASale is a large affiliate network, connecting those looking to affiliate market with those looking to sell their gardening, home decor, and automotive wares. The commission amount seems to vary but on average you could make 20% on all sales.
Commission: 20%
Cookie life: unknown
17. TripAdvisor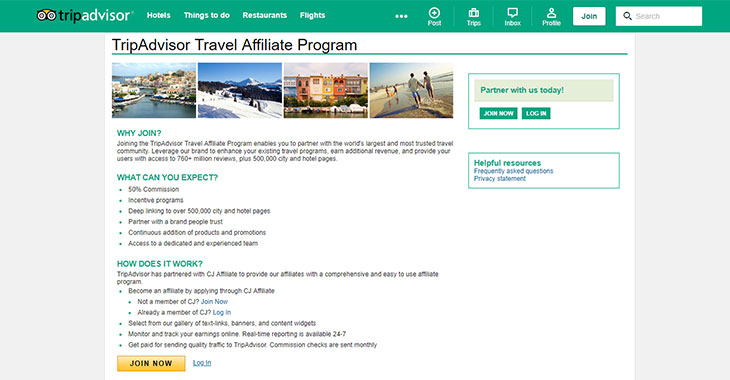 While there are several other travel affiliate programs out there, TripAdvisor remains one of the top and most popular options. They offer a 50% commission for each ad your viewer clicks on, with a great 14 day cookie life, which means even if your reader doesn't purchase something, you still make money.
Commission: 50%
Cookie life: 14 days
18. eBay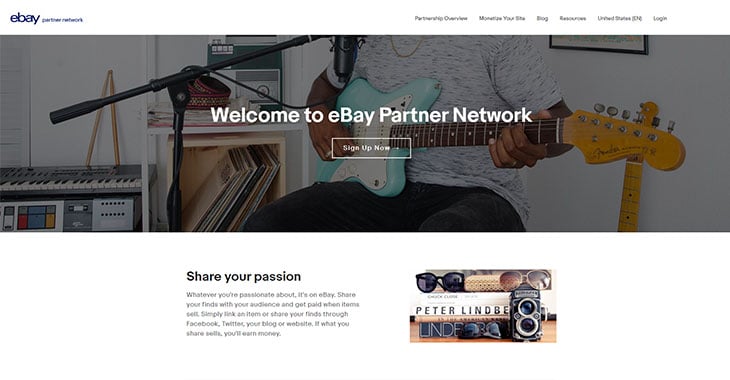 Just like Amazon, eBay also offers a massive selection of products, but with a commission of 50-70% on the auction fee, not the total price, and depending on the product category as well.
Commission: 50-70% of auction fee
Cookie life: 24 hours for 'Buy It Now' items, or 10 days for auction items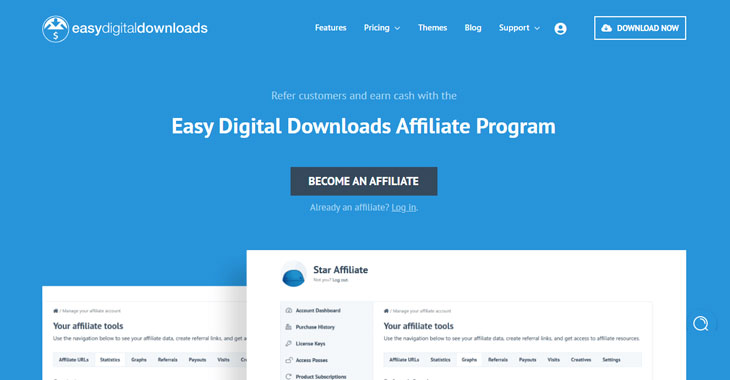 Easy Digital Downloads is a WordPress plugin that focuses on selling digital downloads easily and painlessly. Their affiliate program 10% on every single referral with hundreds of extensions to choose from.
Commission: 10%
Cookie life: 30 days
20. Amazon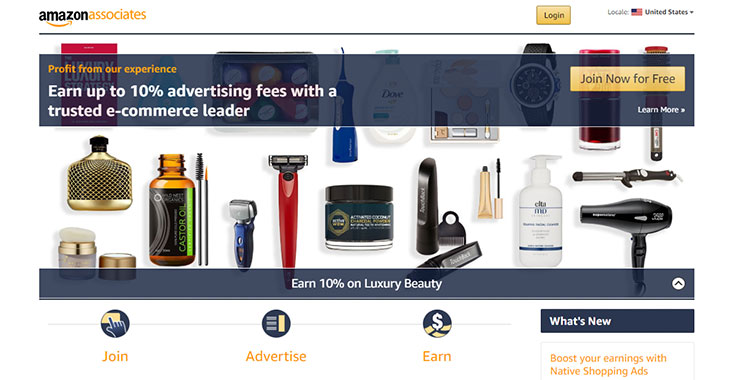 Hands down one of the most popular affiliate programs and because you can find almost any product on it, the commission return isn't as substantial as others. Amazon Associates pay out 1-10%. A bonus is that if someone ends up on Amazon using your link, but purchases something else entirely, you still earn a commission. They've also recently launched their Amazon Influencer Program for social media influencers.
Commission: 1-10%
Cookie life: 24 hours
20. Liquid Web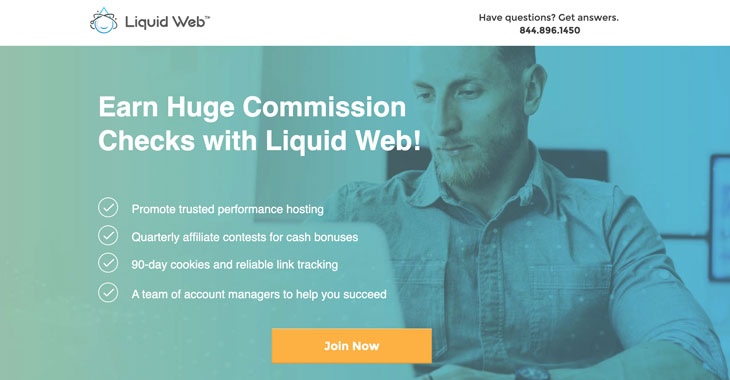 Liquid Web offers a wide range of hosting services from shared hosting to dedicated hosting and managed WordPress hosting. Themify has been using Liquid Web for many years (highly recommended). They have excellent support.
Commission: 150%
Cookie life: 90 days
Congrats for making it all the way down the list! Get building your site with our foundational tutorials and full documents now.