22 Nov 2012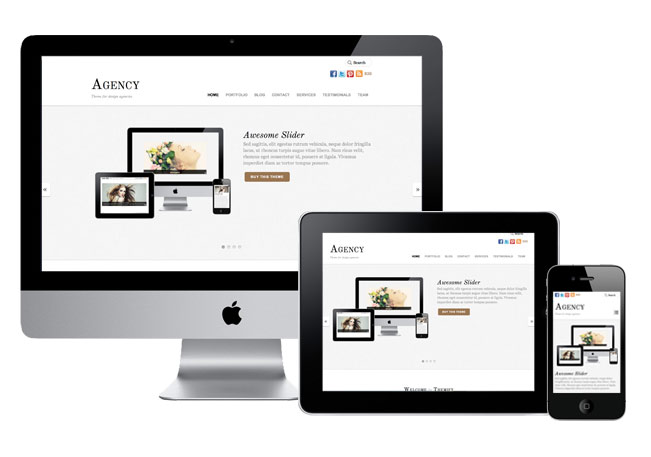 Themify has been on a roll lately, releasing WordPress themes that really push the boundaries of responsive design. Today is no different. We are proud to announce Agency, a clean, minimal, and responsive theme meant for design agencies. Agency is packed with a bunch of custom post types: Portfolio, Highlight, Testimonial, and Team. It allows you to beautifully showcase your services, portfolio, and products. Fully customizable using the Themify shortcode convention, allowing complete freedom in how the website behaves and displays itself across any and all devices. See our demo: Home 1, Home 2, and Home 3.
Limited time offer: use the coupon code "agency" to save 30% off the Agency theme. Offer ends on Nov 28, 2012.
Responsive Design
As usual, we have built Agency as a responsive WordPress theme out of the box. This means that you will see the same beautiful Agency WordPress themes, regardless of your monitor size or mobile device, without having to code.
Slider
With Agency, you can create custom slider content using images, videos, captions, and galleries.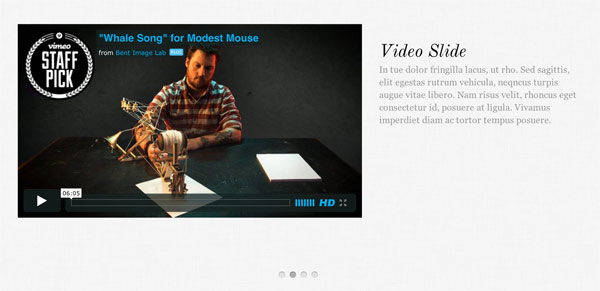 Custom Post Types
Agency theme uses WordPress custom post types to manage the portfolio items, highlights, testimonials, and team members so that they are completely separate from the blog posts. Each custom post type has its own custom panel which makes it very simple to manage your content.
Portfolio
With Portfolio posts, you can use a single static featured image, or use multiple images and Agency will automatically create a slider with all of your images. See Portfolio shortcode demo.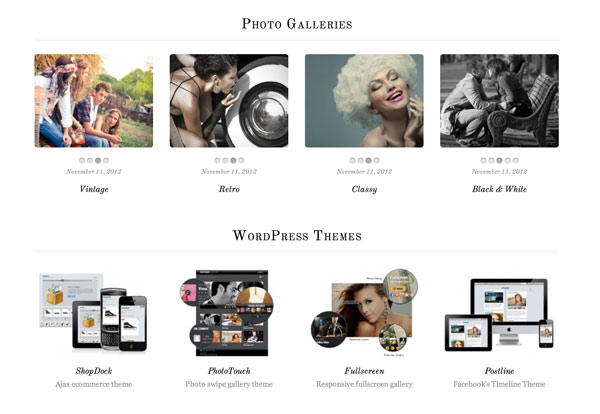 Highlight
Use the Highlight posts to display a short paragraph of text to highlight your agency's feature list or services provided. You can take a look at our Highlight demo to get a better idea of how this works.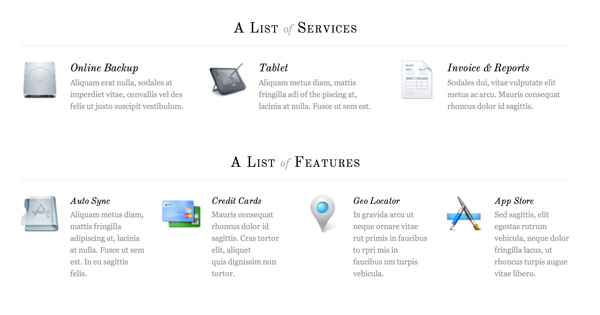 Testimonial
Use customer testimonials to provide social proof for visitors to your agency website and increase lead generation and conversion rates. Take a look at our Testimonial demo to see them in action.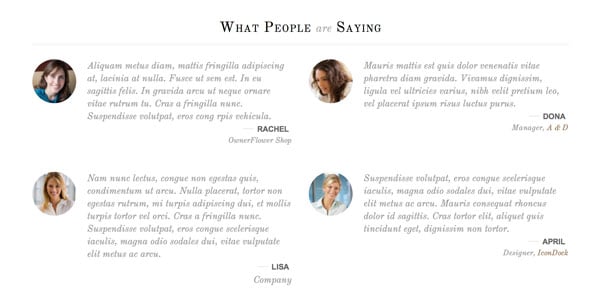 Team
Use Team posts to display a complete list of your team members. Team members can be categorized based on their job title, such as Executive, General, Management, etc. You can take a look at our Team demo to understand how Team posts work.

Full Control of Page Layout with Shortcodes
Agency theme uses custom post types to display any content, anywhere on the page, post, or sidebar widgets. Each post type shortcode has fully customizable parameters which allow you to affect layout style, image size, toggle content, etc. You can also combine any of our existing shortcodes to create unique page layouts. Check out our demo pages: Home 1, Home 2, and Home 3. Be creative with the shortcodes.. mix it with column, slider, map, or any shortcode from plugins.