19 Nov 2018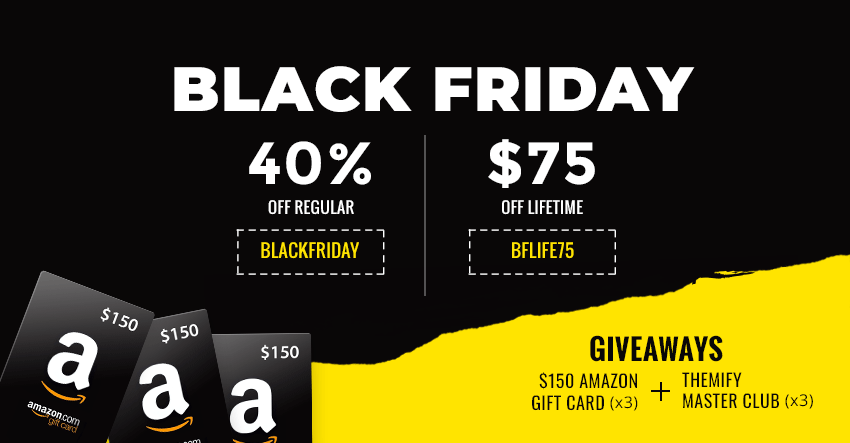 Update: Congratulations to our lucky Black Friday/Cyber Monday winners!
Cristian Bondarenco - Facebook Share
Josué Cherryholmes - Twitter Share
Lisa Pecora - Blog Comment
Black Friday deals for WordPress themes and giveaways in the tech world go into hyper drive this time of year. Don't miss out on one of the top rated WordPress themes with Themify's top offers of the year.
Take advantage of the 40% OFF sale, $75 OFF the Lifetime Club Membership, and a fantastic $150 Amazon Gift Card + Master Club Membership giveaway!
See below for details on each promotion.
40% OFF ALL PURCHASES
This includes all plugins, Builder Addons, Themify themes, and all Club Memberships (excluding the Lifetime Club Membership).
Use promo code: BLACKFRIDAY
Psst! You can even use this promo code for your membership renewals and upgrades!
$75 OFF LIFETIME CLUB MEMBERSHIP
This exclusive membership gives users LIFETIME access to all Themify products, updates, and support. With one low payment, it's all yours for $174! This package is an absolute steal and comes highly recommended from newbies and veteran web designers alike!
Use promo code: BFLIFE75
Lifetime Club Membership Sale: $174 (Reg. Price: $249)
WIN A $150 AMAZON GIFT CARD & A FREE MASTER CLUB MEMBERSHIP
We will be giving 3 lucky winners to receive a $150 Amazon Gift Card AND a Themify Master Club Membership (which gives you access to all Themify themes, products, support and updates for a year). The total cost of this grand prize is valued at $239!
Enter to win 1 of 3 grand prizes by submitting an entry in one of the following ways:
Follow + Tweet Us
Share this post on Facebook
Comment on this blog below
The more entries, the more chances of winning! Use the raffle tool below to submit your entries today.
This promotion and giveaway ends on Cyber Monday, November 26, 2018 @ 11:59pm EST.
a Rafflecopter giveaway
Good luck and Happy Black Friday/Cyber Monday!