03 Oct 2018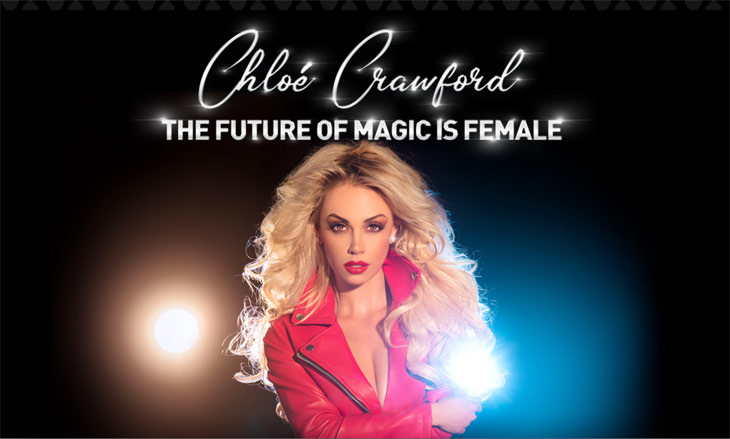 For this month's customer story, we wanted to feature a web developer's mystical work behind many prestigious creatives, many of whom have made appearances on 'Penn & Teller: Fool Us', 'Wizard Wars', and 'Ripley's Believe It or Not'. These artists risk life and limb, push the envelope of entertainment, and they trust one man for their online representation. Meet Bizzaro and hear his story!
About Me
Greetings! My name is Bizzaro and I use Themify to make my life easier. Most recently I completed a website for a high-profile client by the name of Chloe Crawford. She was featured on 'Britain's Got Talent', 'Sports Illustrated SI', and 'Playboy', and you might have never guessed it but Themify was our perfect WordPress theme of choice.
Now before I go into some of my web designing work, allow me to tell you a little bit about what I do on the daily. I am a magician and prop maker in Las Vegas, NV. When I am not performing, I am part of a company called "Test Subjects" that creates and builds escape rooms.
What does this have to do with web designing? Well, like most artists, web designing was born out of necessity. I previously had someone else creating my site, but with all the many changes I needed to make, I eventually took over my own website maintenance, back in 1998.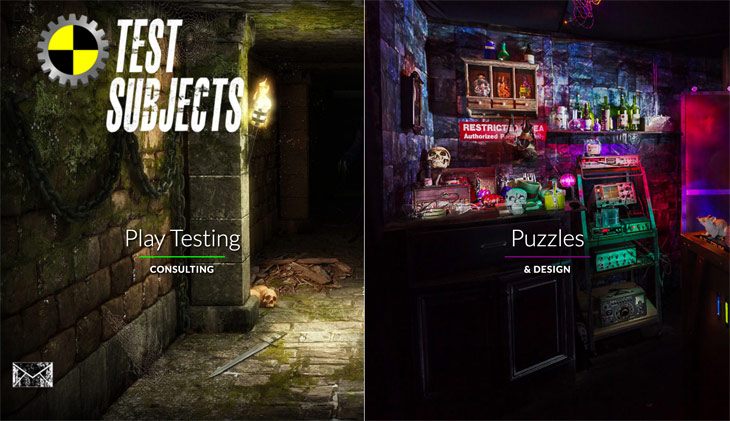 Getting My Start In Web Design
As with most things, I learned how to update and change my own website by diving in head first. This was back in the late 90s when raw HTML code ruled the earth, so I began learning to hand code HTML, usually beginning in Photoshop first.
I found web designing for myself to be useful, as it was easier to alter little things here or there and not bug my webmaster with trivial things. After much time and experience, I can now create websites for other artists and performers freelance - that is when I have the time, which is not as often these days.
Most of the websites I make for myself are hand coded and designed in Photoshop. It's easier to troubleshoot bugs when you write the code yourself. I find programs such as Dreamweaver, and the like, tend to inject a lot of unnecessary code that can be a pain to sift through at times. Thankfully programs like Photoshop have evolved with the times and now let you export CSS and HTML5 directly from your designs - which is GREAT!
The problems with this method come into play when you have a client who want to update things themselves. They usually do not have a grasp on basic HTML let alone more complicated coding. I have found that creating a site for someone who'd like to maintain the content themselves would need more of a simple and easy-to-use interface.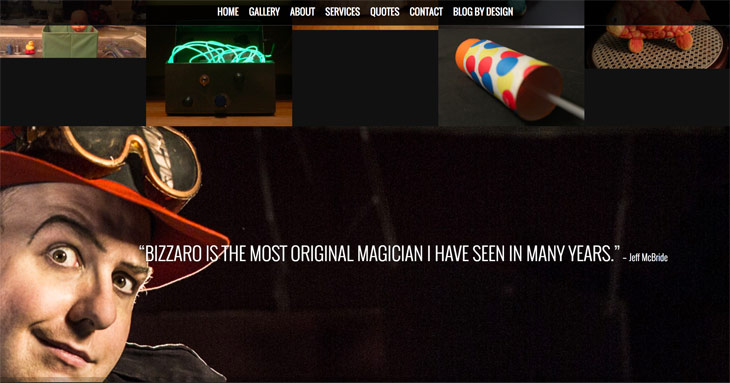 Discovering WordPress
This is why a backend CMS like WordPress can come in handy. They make it easier for people to update their own sites, and with the ability to use plugins to inject functions that are not native to the platform, it really expands WordPress' options for developers and clients themselves.
I do have a love/hate relationship with WordPress. It can be frustrating due to the aforementioned "I didn't write the code so it's harder to fix stuff" issue. I used a number of paid templates here and there, but found WordPress still had a high learning curve for the average person.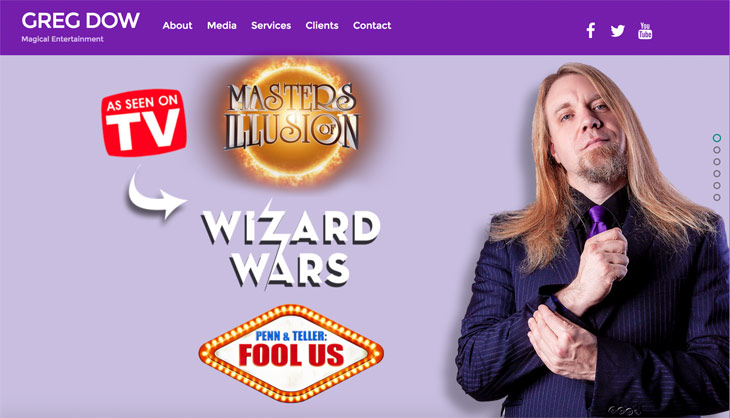 Hello Themify Builder!
After a lot of trial and error, and after going through many other theme providers, I finally stumbled upon Themify. The Themify Builder, a relatively new technology for the time, came into play and it changed the game. I was looking for a good 'Split' theme for an idea and happened upon their... well... 'Split' theme! I was excited.
When I got into it and saw that it used a module based builder system (aka. the 'Themify Builder'), it made things so much easier for me I was able to visually lay out a website with a client, and at the same time, show them how to use it. The biggest improvement was just how easy it was for THEM to update basic stuff.
A feature I personally like are all of Themify's animation options. When you are working with performers and artists, interactive visuals are always better. Being able to have things fly onto the screen, parallax scroll, and fade, among everything else, is really eye catching. Plus, the fact that all of these awesome features are built-in is a big help. It's intuitive, fast, and you can see your changes in real time. This is extremely useful when I'm consulting clients and allows for them to see what their live site would look like.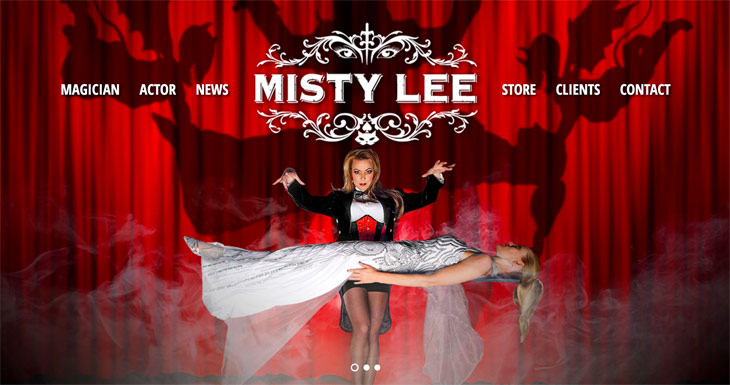 Ultra, My Theme Of Choice
I mainly use Themify's Ultra theme since it has so many options! Also, with the most recent framework update, it's even more user-friendly than ever before. Things of course break or don't always work right when changes get made, but thankfully Themify's support forum has guys who have a thankless job helping people like me (even if it takes a while to understand exactly what is going on on my end). I have seen far too many templates from places like ThemeForest that go unchanged for YEARS. It's nice to see an evolving platform that is affordable and easy to use.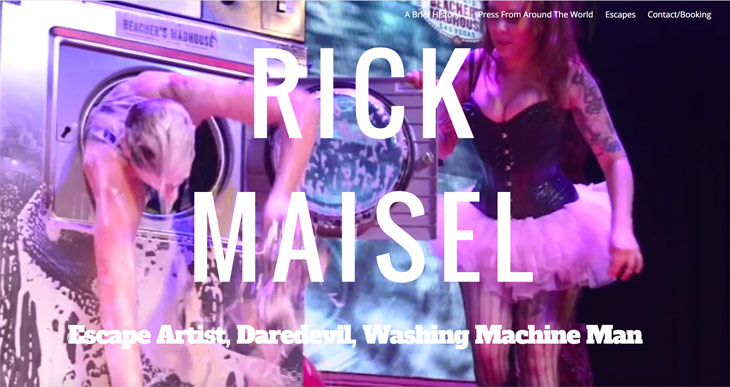 Using Themify For Major Clients
I have made websites with Themify for all sorts of interesting people, places, and things. The website I was working on when I was asked to be part of this feature was for Chloe Crawford, a magician who was on Britain's Got Talent and has been featuring in a very popular Las Vegas show at the Luxor Hotel.
The glamorous illusionist and international model currently features in "Criss Angel MindFreak LIVE", a multi-million dollar production. And with the touring magical production "The Illusionists" underway this fall, Chloe Crawford and I turned to Themify themes for her website debut.
I've also used Themify for various other performers around the world, including Misty Lee, Greg Dow, and Pink Tie Magic.
A website for Rick Maisel was the first site I made with Themify's Ultra theme. I needed something that could showcase Rick's amazing career and abilities. It's not everyday you get to see a guy escape from a washing machine and you really need to see it to believe it.
Another client needed me to make a crazy website for a comedy wrestling show called Freakshow Wrestling. The show is live and not unlike a cartoon version of WWE that has come to life. I tried to recreate that fun and zany vibe on the website to reflect that. The show and site are both chaos and ridiculousness, all at the same time. Having access to a WordPress theme like Themify's Ultra allows for all of the animation and parallax options I used – which really helped properly showcase this wild and whacky spectacle of a show.
Personally, I don't have a website specifically for my web design services. But as I do creative consulting for performers and artists, that wide range can sometimes include websites.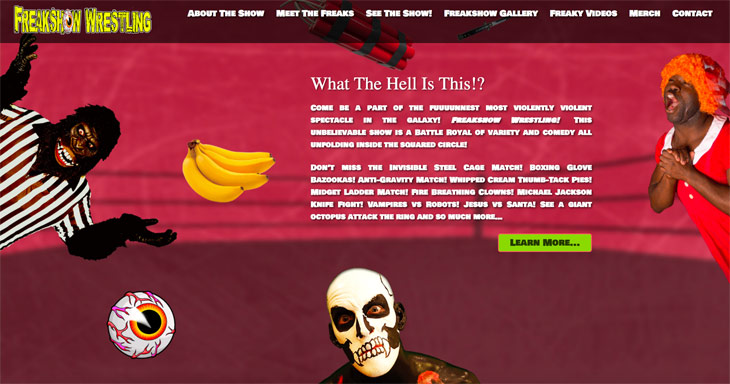 Themify Vs The World
The major changes between using paid WordPress templates versus Themify + Themify Builder were immeasurable. For me, the biggest difference was trying to decipher the thinking behind each random WordPress template. Every time you use a new theme, something is different whether by aesthetic or programming. Using something like Themify that is the same across the board for each of their themes speeds up your workflow because you know where everything is at all times and it won't change. Also, having a visual editor helps a lot obviously.
Another useful feature to getting the most out of Themify's Builder is to take advantage of their responsive styling! I recently realized how streamlined the mobile design aspects have become. Don't ignore the ability to layout a website accurately for mobile or tablet, as the bulk of your website views can usually come from a mobile device.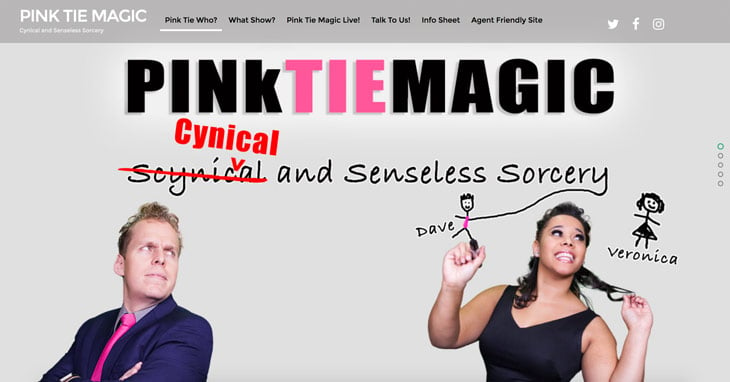 Future Forward
Although it's not my first calling, I am interested in continuing to bring life to a client's website. I like the creative process and I enjoy web design. I feel like it's similar to prop making or even performing magic, as it requires problem solving. I find myself saying "I want this website to do or look like THIS... now how do I make it do that?". This creative challenge of making something new excites and invigorates me. Plus, having the right tools, like Themify, always help!
- Bizarro
Thank you for listening to how this unlikely web designer creates his magical portfolios using Themify!
Share Your Story Now! Have you created an intriguing website using Themify? Do you have an interesting story? Whether your site is for a business, blog, or portfolio, let us help you showcase and share your beautiful work. Please contact us.