15 Aug 2016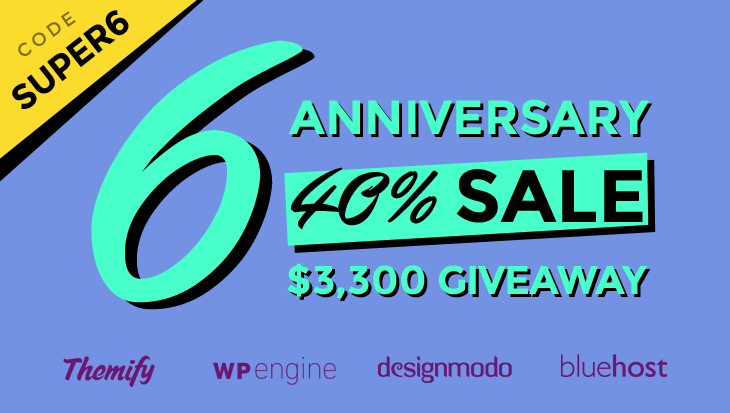 Update: Congratulations to our lucky winners!
Mike Mulkern
Kenny Arndorfer
Jim Bennett
We're proud to celebrate six amazing years of providing all of you with premium WordPress themes and plugins. Looking back when we only had 4 themes, it's amazing to see how far we've now come with over 54+ themes, 7 plugins, 22 Builder addons, 4 PTB addons, and over 60,000+ users. All of this would not have been possible without all of your support, which is why for this year's anniversary, we're giving all of you a super 40% sale on all themes, plugins, addons, and even Club memberships (exclude Lifetime Master Club) by using the coupon code SUPER6. And for those who want lifetime access to all our products, support and updates, you can get a $100 off the Lifetime Master Club membership with the code SUPERLIFE.
3 Winners = $3,300 Prize Package Giveaway!
In addition to the sale, we've also partnered with BlueHost, WP Engine, and Designmodo to host a giveaway that's valued at over $3,300! This is our biggest giveaway yet! To participate in this giveaway, you can choose any of the action on the form below to submit an entry to participate in our giveaway. The more actions you do, the more entries you'll get, and the more chances of winning! Last day to submit an entry is on August 22, 2016 at 11:59pm EST. After that we'll pick, at random, 3 lucky winners who'll win our giveaway. Below is a list of prizes you'll receive for each winner:
Prizes - Each Winner Gets:
Infinite access to all Themify products
Themes, plugins, addons, PSD files, support, and updates. Learn more...
Affiliate 50% Commission - Easily Earn $150 Per Sale!
Together with the sale and giveaway, we are also bumping our affiliate commission to 50% during the promotion week. Here's an example of how you can earn easily; let's say you refer someone to purchase a Lifetime Master Club at $299. With 50% referral, you'll get a commission of $150! We are expecting higher conversion because of the big sale, so don't miss this opportunity to earn fast cash. Anyone is welcome to promote and earn. Just make sure to use the tracking link found in your member area and follow the rules outlined on our Affiliate page. If you are not a Themify member yet, sign up an affiliate account and get your own tracking code.
Note: The sale, giveaway, and the increased affiliate commission rate ends on August 22, 2016 at 11:59pm EST.
Good Luck & Happy Anniversary Everyone!