28 Jan 2019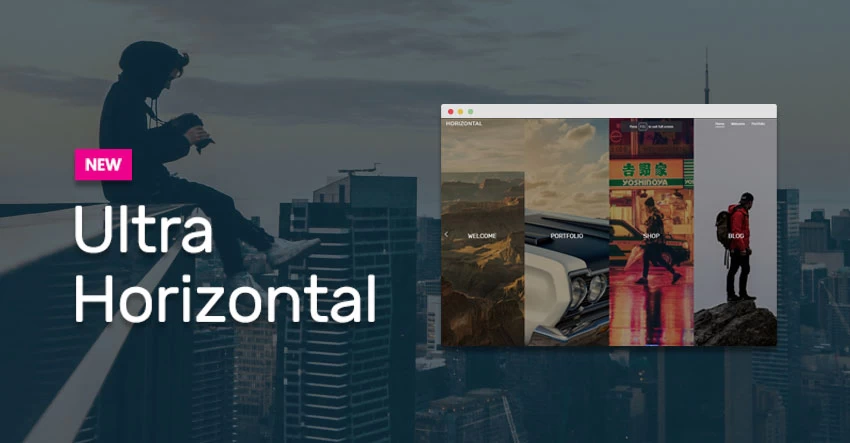 Calling all city and travel photography bloggers and influencers… please help us welcome the Ultra Horizontal skin! Using vivid colours, horizontal scrolling, and big visual imagery, allow the reader to step into your memories with your breathtaking travel photos.
This is the perfect skin to showcase your landscapes and detail shots all at once, using the section scrolling with fancy parallax scrolling effect. The Ultra Horizontal also makes it easy for you to keep yourself afloat during your travels by using the built-in Portfolio and Shop section. Simply insert your products or Amazon Affiliate product links in your shop with the free WooCommerce plugin and use our specially pre-designed layout for it. Or feature your professional skills and services by displaying your best pictures in the Portfolio section using our free Themify Portfolio Plugin!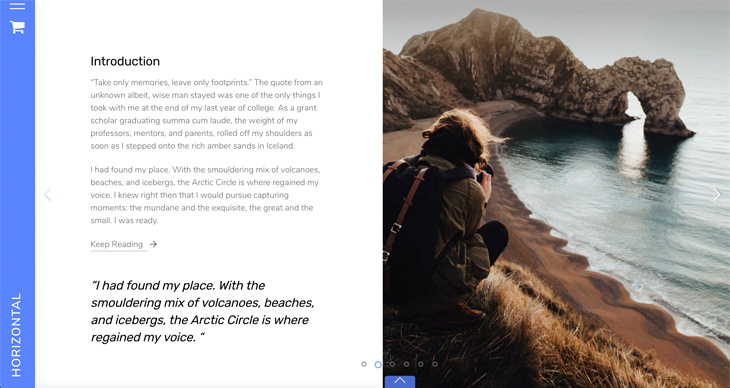 Particularly special is the 'My Story' page. Bring your readers in by sharing the big moments in your journey and how you got to where you are. The soft shadow and contrast effects lets viewers wander along with you through the mountains and deep into the oceans. Take your prospective clients on a journey that they won't soon forget!
The Ultra Theme
The purchase of the Ultra Theme will give users access to the following:
12 Free Bonus Builder Addons
17 Skins/Demos (Including the New Ultra Horizontal Skin)
Use On An Unlimited Number of Sites
Access to One Year of Downloads, Updates, and Support
30 Day Money Back Guarantee!
Try the Ultra theme today, along with it's 17 bonus skins, for just $59 and custom create just about any website in the same day. Give your readers and followers visuals from new heights - experience the Horizontal demo now.
Stay tuned for the several new Ultra skins we'll be launching over the next month! Is there an Ultra skin that you're hoping to see? Please let us know in the comments below.