Reinstalling Themes
Sometimes when the theme has issues such as corrupted or missing files, reinstalling it might resolves the issue. If you didn't edit any core theme file or add any custom_style.css and custom-functions.php, it is safe to reinstall the theme without losing the theme settings and content. Again, backup your Themify panel settings before re-installing the theme. To backup the Themify panel settings: on the Themify panel, click Transfer tab, then click "Export" button.
Method 1) Re-installing the Theme Using Themify
Panel
Using the Themify panel is the most fastest way to reinstall the theme.
Go to WP-Admin > Themify panel > Update, click "Re-install Theme" button.

It will ask you for Themify credentials. Enter your Themify username and password.

You may reinstall to the previous version by selecting the version number from the version dropdown and then click "Re-install Theme" button.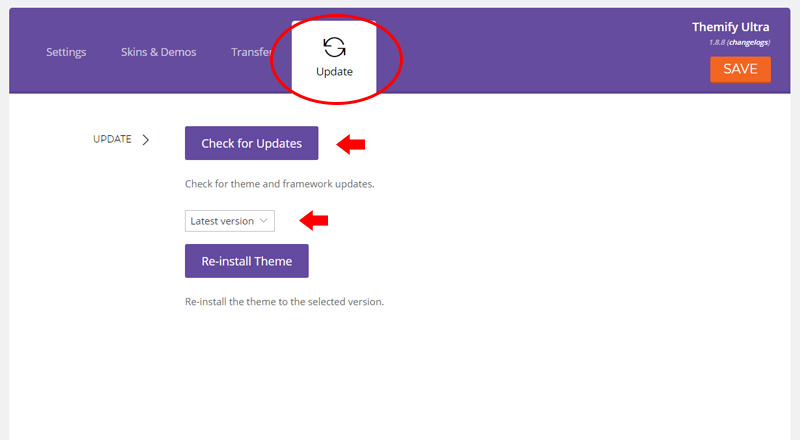 Method 2) Re-installing the Theme Using WordPress Theme Installer
The following step will show you how to reinstall the theme using the WordPress theme installer.
Login to Member Dashboard to download the latest theme zip.
Login to WP Admin.
Go to Appearance > Themes.
Temporarily activate a different theme (theme cannot be deleted if it is active).
Now click on the "Delete" button to remove the theme (the "Delete" link is located under the theme screenshot).
Then click on the "Install Theme" tab (located at the top of the page), click on the "Upload" link, upload the latest theme zip and activate it (see tutorial on Installing Themes).