19 Jun 2019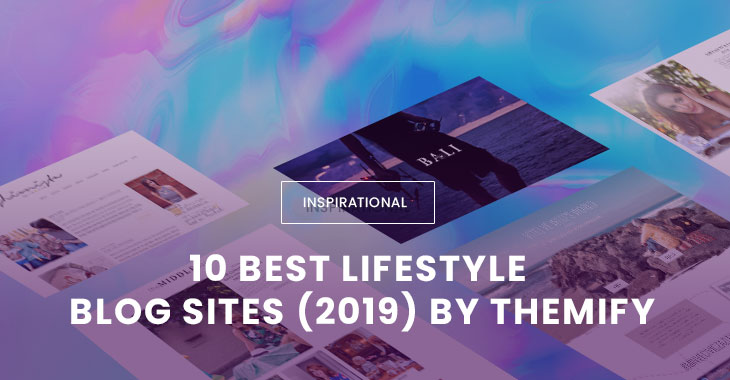 Lifestyle blogs are changing how we discover new things, make purchases, and view the world - all through the tasteful and chic lens of the bloggers who run them. Aptly named, these blogs cover a wide range of topics from home life, travel, food, fashion, entertaining, beauty, and décor. Summer is one of the high seasons for lifestyle blogs to blossom and attract new visitors. Those looking for new adventures and summer to-do's will look to their favourite blogs for inspiration.
If you've ever thought about sharing your everyday life, interests, and awesome discoveries, there's no better time than now especially with our new Ultra Lifestyle skin. With our instant demo import feature, you can create the minimal, sleek, and aesthetically pleasing site you desire with the click of a button. The skin also comes completely integrated with an online shop, as well as a neat and organized layout allowing you to put the spotlight on your breathtaking images.
To get you inspired and thinking of your lifestyle blog's many possibilities, we've compiled together a list of 10 lifestyle blogs all created and powered by Themify themes. So grab your favourite beverage and dig in to see all the best features and lifestyle blogging trends you should incorporate onto your own. Enjoy!
We don't discriminate by language so don't forget to hit the translate button for the international sites!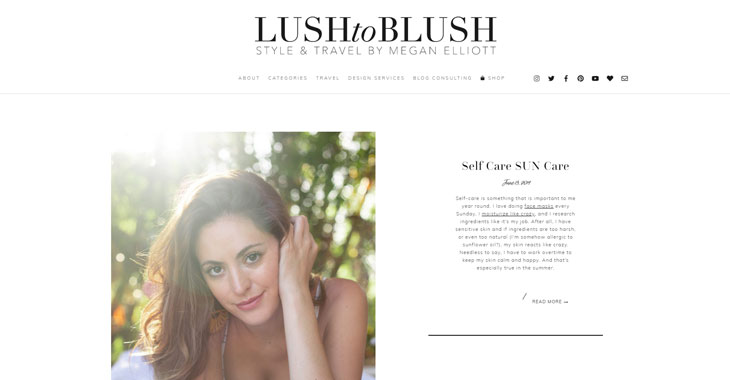 Base Theme: Elegant
Lush to Blush's Megan Elliot has crafted a minimal yet elegant aesthetic on her Themify powered site. She expertly showcases her own web developing and designing skills through her style and travels. You'll see a well-organized blog layout that keeps things simple with plenty of stunning photos and genuinely written posts. Read more, with Megan's Customer Story.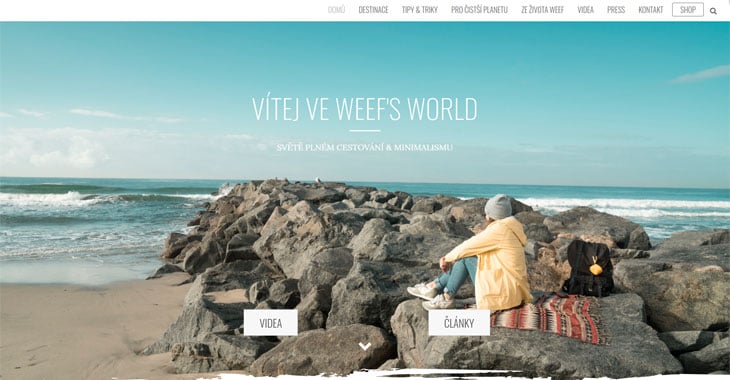 Base Theme: Ultra
Veronika of Weef's World uses her blog site to share her adventure and travels, all with a playful and minimal style. With a background in web developing and designing, Veronika takes her travel lifestyle blog to the next level with a fun layout and her passion for a zero waste lifestyle. Read more, with Veronika's Customer Story.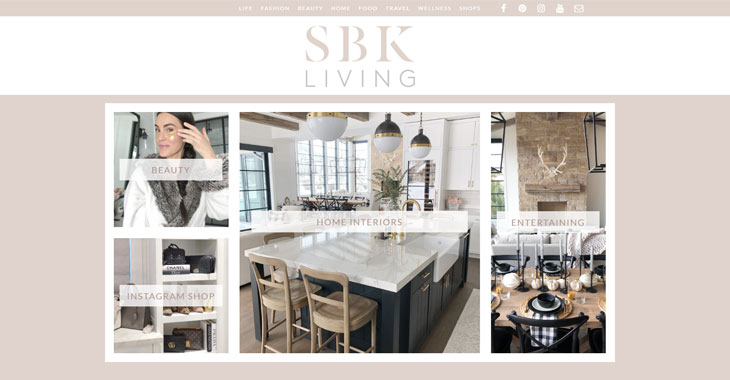 Base Theme: Ultra
Kasey of Styled By Kasey Living is flush with interior decorating, home finds, healthy eating, and entertaining tips. Her chic and rustic approach to design is carried throughout her blog and to all of her photos, including her beautiful home's interior and furnishings.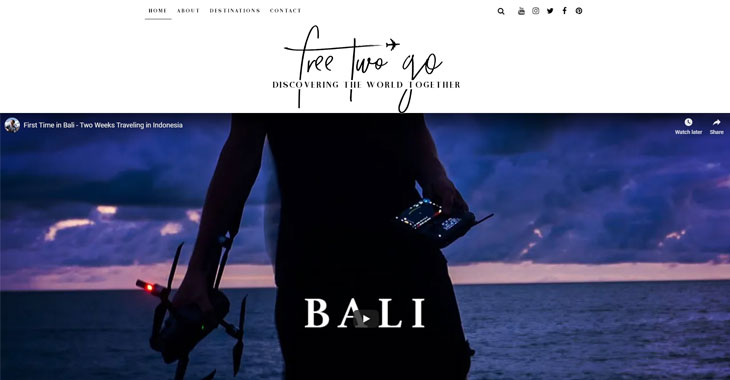 Base Theme: Ultra
Ryan and Megan, of Lush to Blush, are world travelers committed to documenting everything they experience via vlogs and blogs. Although still in the early stages, you can see how the minimal and fresh layout compliments a blog that's soon to be bursting with content.

Base Theme: Ultra
Calligraphy and lettering is a delicate and fine art, and this idea is completely fleshed out in the blog, Jennie's Letters. This hybrid blog combines Jennie's passions for both lettering and lifestyle, and we definitely find ourselves feeling very relaxed scrolling through her blog as she is hand lettering.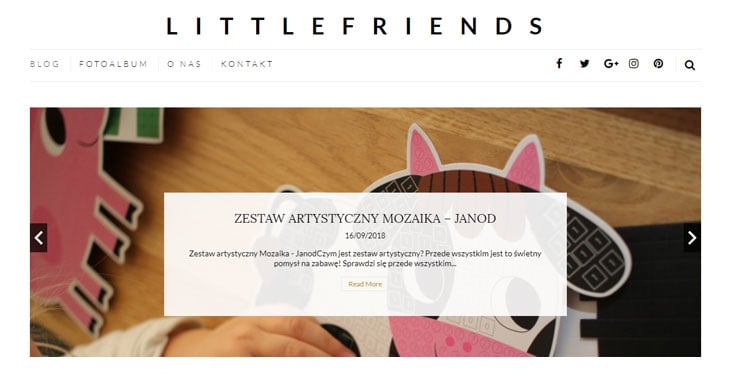 Base Theme: Ultra
Mama Marysia of Little Friends is a motherhood and family lifestyle blog celebrating the big and little moments that make up raising a little one. Not only does this mama explore all the kid product must-haves, but even broaches the topic of skin treatment options for mothers.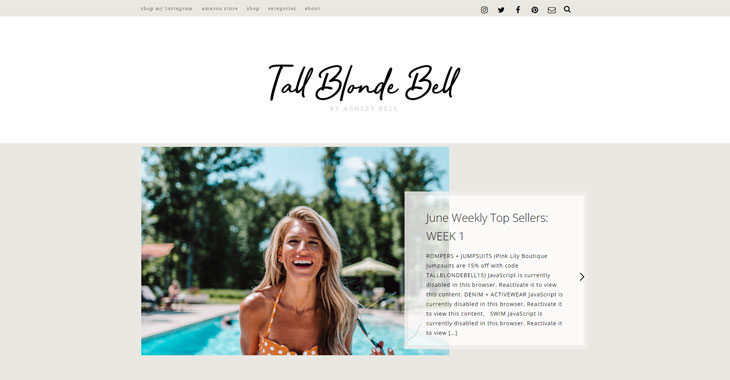 Base Theme: Ultra
Ashley Bell of Tall Blonde Bell covers everything from fitness, healthy eating, fashion and travel. See how you can create a profit linking Instagram posts of your outfits to affiliate links on your blog just like Ashley with the use of LIKEtoKNOW.it.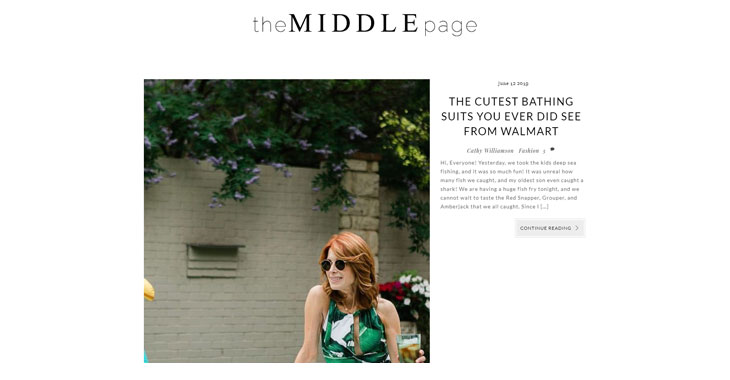 Base Theme: Ultra
The Middle Page's Cathy shares her impeccably stylish outfits no matter the age – we can hardly believe she is a grandparent. Her blog navigates style, gift ideas, and beauty at every age, but her taste for style and fashion is topnotch regardless of age.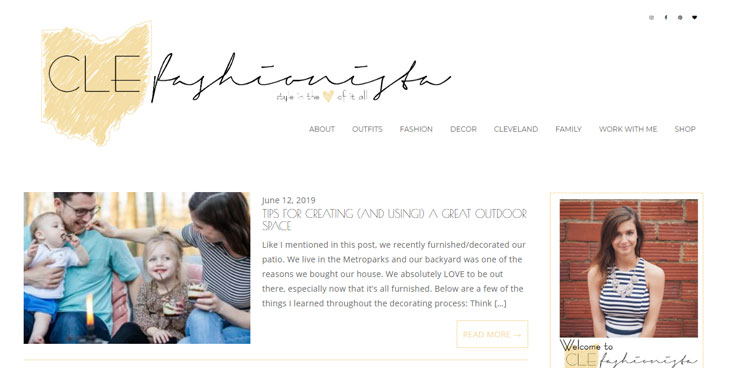 Base Theme: Corporate
CLEfashionista is a blog run by Rachel, a life-long Clevelander with a passion for fashion, home life, and interior décor. The all-around blog specializes in all things Cleveland, which helps with SEO ranking and visibility. Consider specializing in what you're passionate about to help widen your reach.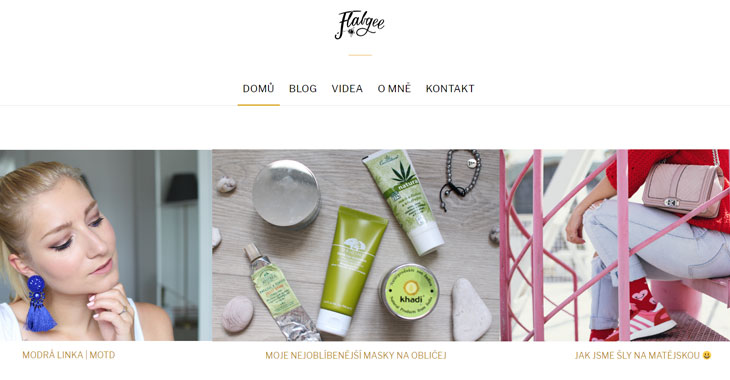 Base Theme: Shoppe

Flabgee is run by Eva and nicely blends blog posts, affiliate product links, and her YouTube vlogs all on one page. Integrating your Instagram feed is also one easy way to make sure you always have fresh and up-to-date content.

Thanks for reading and congrats to all of the sites who made it on the list. We don't have eyes everywhere, so if you'd like your Themify powered site to be featured, please submit your entry on our showcase form. We hope to discover and share all of your amazing websites!