16 Jul 2020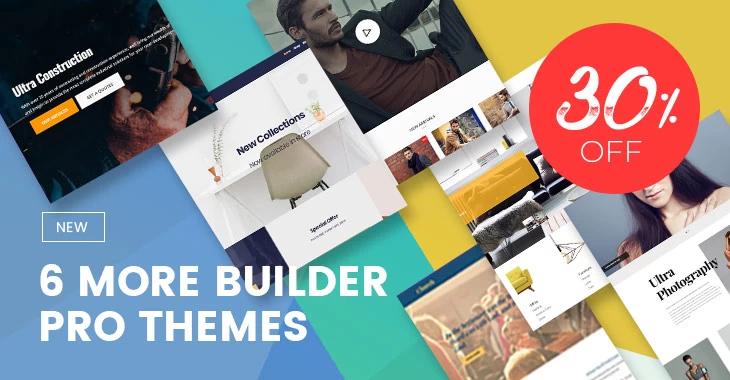 We hope you enjoyed the previous batch of Builder Pro themes we released 2 weeks ago. Today we are releasing another 6 new Pro themes for Builder Pro. With the new additions, we have a total 16 Pro themes with demo content. In case you are wondering how Pro themes work, we've recorded a short video tutorial. The process of importing a Pro theme is relatively simple and quick. You just need to create a new theme, select the theme demo and click import. It will then import the theme and the associated templates and demo content. Within a minute, you can replicate your site exactly like our demo. Then you can edit the templates and content as you like.
Theme Demos
Below are the new Pro themes released in this batch:
30% OFF Everything
If you're interested in the Builder Pro, we recommend the Master Club as it includes all themes, plugins and addons. We are offering a 30% discount until the end of July 2020. Use PROTHEMES coupon code to take 30% off everything on Themify (including Lifetime Club). As a reminder, we do have a 30-day refund policy. Feel free to give it a try. If you don't like it, simply ask for a full refund.