19 Apr 2019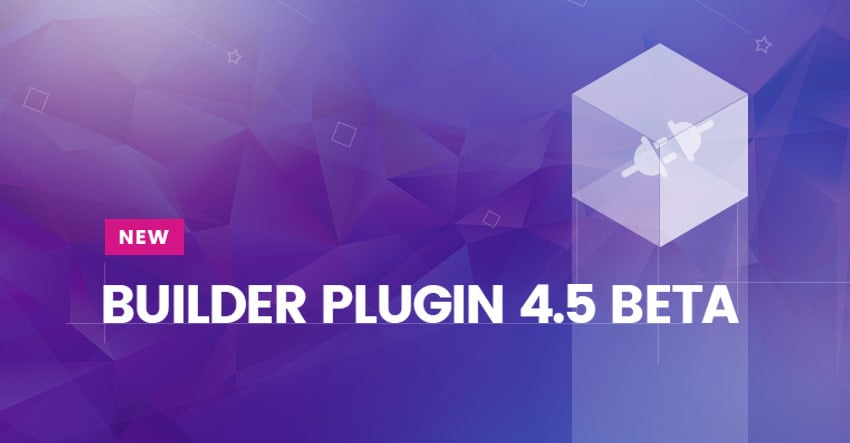 We recently announced the release of the Builder 4.5 Beta Version, and now we've got the Builder Plugin 4.5 Beta as a standalone plugin for you all! (This beta version of our new Builder plugin is only for use on non-Themify themes. If you'd like to test out the Builder 4.5 Beta on a Themify theme, please follow the guide in the original Beta pre-release announcement).
In this latest version, we basically re-coded the entire Builder core to now use Javascript for a better and faster user experience. Along with these performance enhancements, we've added many new and exciting Builder features! We've left the full details on our original announcement so you can read that there. Continue below for a brief roundup and a friendly disclaimer before you install the Builder Plugin Beta!
Builder Plugin 4.5 Beta Features
Faster Performance: We are now using Javascript to load the module lightbox, and the lightbox is only loaded when the user triggers it. This helps the Builder to load much faster than before.
New Modules: New Opt-in Form and Login Form modules give you even more control for newsletter signups and membership sites.
New Styling Features: So many more ways to style your modules! We've added options for hover styling, height and min-height styling (instead of padding), rounded corner options, text shadow, box shadow, blend modes, and more!
New Find and Replace Tool: Easily find and replace content, mass replace, or edit specific content manually, all within the Builder.
Floating or Docked Panel: Two new Builder panel interface modes: floating or docked. Pop the Builder panel out, or drag it to the side to dock it for a bigger working space.
Themify Setting Quick Search: Easily search the Themify panel settings without having to look through the settings tab.

Beta Version Available
The beta version of the Builder Plugin 4.5 may have a few bugs or issues yet unknown to us. We're grateful for your feedback. Please follow the instructions below to install the beta version.

WARNING: Please do not use the beta version on your live site as it is not finalized yet. We recommend that you use it on a testing site only. Also, the new update requires the new versions of all the Builder addons which we haven't released yet. If you have the old Builder addons activated, please disable them, or else the Builder won't turn on.
How to Install Themify Builder Plugin 4.5 Beta Version:
Download the builder-plugin-beta.zip and upload it as is to WP-admin > Plugins > Add New > Upload Plugin > Activate (do not use it on a live site, install it on a test site!)
The Builder Plugin is intended for non-Themify themes. You can use any theme to test it.
Have fun with the new features! :)
Bug Report & Feedback
If you encounter any issues or bugs, feel free to contact us or comment on this blog post below. This update was possible with the help of all of our hardworking developers, as well as all of you! Because of your continued support, we have been able to keep making Themify better and better. Thank you!