28 Oct 2019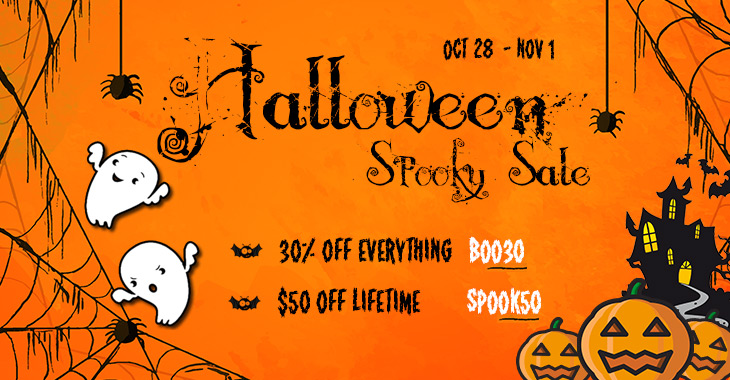 You don't need any magic spells to conjure up an unbelievable deal at Themify this Halloween! For a special 5 days, take $50 off the Lifetime Club and 30% off everything else. Don't get spooked by this massive Halloween Sale for our premium WordPress themes and plugins. Get trick-or-treating and add awesome gifts to your bag today.
Thanks also for your support and membership renewals - it helps us improve all of our products and our framework, so please stay tuned to our developments for many more exciting things to come!
30% OFF ALL PURCHASES
Take 30% off all Themify themes, as well as the Master Club membership (Best Value!), all plugins, and Builder Addons, (includes all renewals, *excluding the Lifetime Club).
Use promo code: BOO30
$50 OFF LIFETIME CLUB
The Lifetime Club membership is an exclusive membership that gives users LIFETIME access to all Themify products, updates, and support. This package is an absolute steal and comes highly recommended from newbies and veteran web designers alike.
Lifetime Club Membership Sale: $199 (Reg. $249)
Use promo code: SPOOK50
Themify's Halloween 2019 Sale runs from Monday, October 28th to Friday, November 1st, 2019 until 11:59pm EST.
Have a safe and Happy Halloween everyone!