17 Jan 2019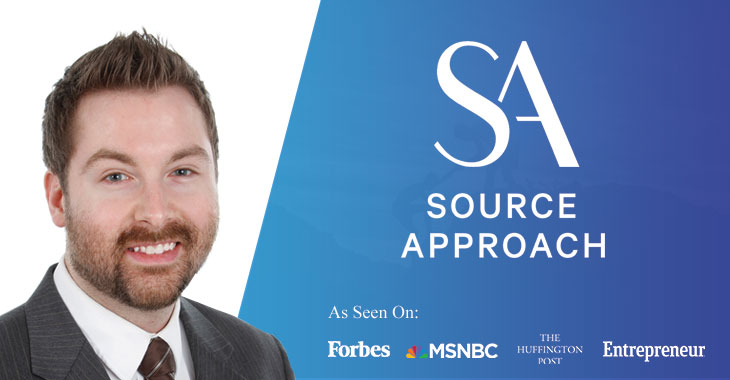 Welcome back to a new edition of our Customer Stories. To kick off the new year, it's time to refocus your website's eCommerce and marketing strategies to be more profitable and successful. To provide us insight into this vast world is business maven, Tanner Rankin, who's appeared on the likes of Forbes, MSNBC, and Entrepreneur. Read on to see how Tanner uses WordPress themes to stay current in the ever-changing eCommerce world.
About Me
My name's Tanner Rankin and I am a top-rated eCommerce and Amazon consultant, as well as an eCommerce website designer. For 10 years, as an author, speaker, and founder of The Source Approach, I've helped brands, startups, and retailers get to where they want to go quicker and easier through eCommerce & Amazon marketing. I focus on lending a hand to help businesses and my own companies grow in the eCommerce and SaaS (Software as a Service) spaces.
Building a website, setting it and forgetting it is one thing, but being responsible for its performance month after month is an entirely different beast. Having been involved in eCommerce for a decade, I'm going to touch on why Themify is the best and most efficient way to design and regularly optimize WordPress websites.
Before Themify
Prior to discovering Themify in 2014, there was a considerable amount of time spent on:
Identifying a theme unique to the needs of a client
Overcoming objections to using pre-made themes that were not unique to their business
Making visual or performance optimization updates & improvements each month based on what we were seeing from visitors
Creating campaign specific landing pages
In my situation as an eCommerce consultant, I am involved and responsible in architecting every piece of the sales funnel, from the top, which is content marketing, to the bottom of the funnel, which would be the eCommerce website. Not only does the site need to be beautiful, but it needs to be search engine friendly and convert customers.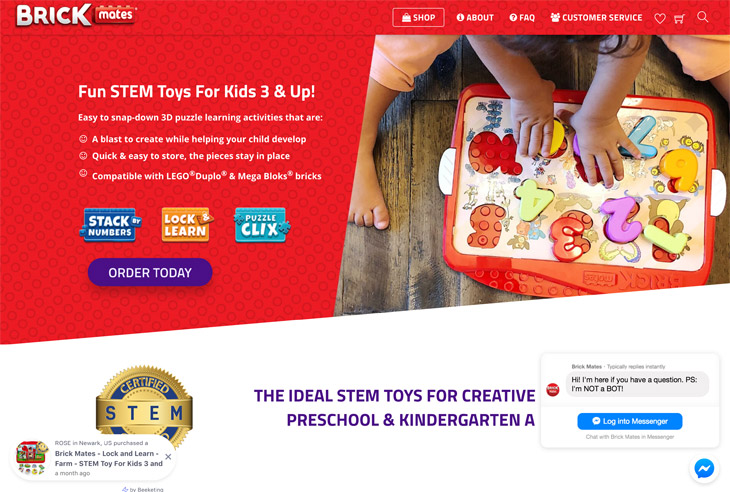 Project: Brick Mates
Base Theme: Shoppe
With multiple campaigns going on, there became a need to quickly churn out and optimize landing pages for specific use cases or advertising channels. Without a drag-and-drop CMS platform that would allow me to quickly and easily accomplish this on a daily basis, it greatly reduced the number of clients I could take on at a time.
After Themify
After identifying Themify through Google, I tried it out on one of my own company sites and became familiar with it quickly as it was incredibly intuitive and things "just worked" the way I expected. I immediately became a Lifetime Member and my life became so much easier.
Since I'm an eCommerce consultant, I stick to Ultra and Shoppe as my go-to's. Generally speaking, I may start with a particular theme or Skin within Ultra and Shoppe for inspiration, then customize from there for each particular client based on which visual assets are available at the time.
After the initial site setup, I can then easily optimize my clients' sites based on monthly analytics reports or if new visual assets become available. This is a much faster and more efficient process than jumping from theme to theme, platform to platform. Everything is streamlined, thus extremely efficient.

Project: Source Approach (Company Site)
Base Theme: Ultra

Project: Lupus Health Shop
Base Theme: Ultra
eCommerce & Digital Marketing Tips
When it comes to your landing pages, in my experience, it's easy to get carried away with all of the great plugins and builder add-ons that Themify offers. My advice? Keep it simple. This will help you succinctly illustrate the value in your products and will help your page load times as well, thus helping to improve your search engine rankings.
After getting folks to your site as visitors, you need to convert them to customers. You can do this by keeping your ads and landing pages focused on establishing trust. When customers purchase online, buyer risk looms large. Many customers have experienced purchasing from unfamiliar brands while not receiving the right product.
One great tool to eliminate these worries is by using trust badges. Trust badges specifically call out key trust factors, handle objections, and note competitive advantages. Take for example this website I designed below for Lupus Health Shop.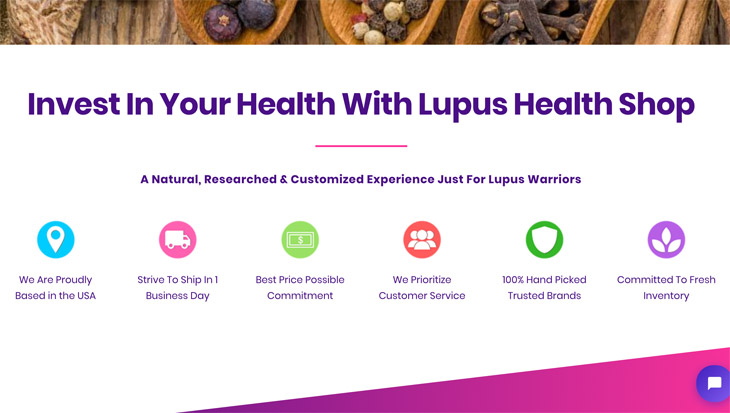 The trust badges listed removes perceived buyer risk, and reassures the customer in many ways, including that they offer the best price possible, that service is the top priority, and that their purchases will arrive quickly.
These badges were created using Themify's image module. It works great, especially when using the Hook Content section for the WooCommerce product pages. Make sure the website you build has these kinds of assurances regarding quality and service, and you'll see it driving up your sales.
Themify User Tips
Themify is also great with tech support and customer service. In the times that I do need help with something custom that can't be achieved with a builder module or plugin, they are always there to lend a hand quickly.
Plus, Themify puts a focus on having speedy page load times, which, as someone who needs to deliver not just a "pretty" website, but a search engine friendly website, this is incredibly important.
Using Builder Layout Parts & Hook Content is a very powerful combination for adding things like credibility badges to product listings or unique menus based on what the customers are viewing.
Themify is hands down the best and most important tool a WordPress website designer can have. As the eCommerce industry evolves and I evolve with it, Themify makes it easy to stay at the forefront.
Tanner has appeared on Forbes.com, Entrepreneur.com, MSNBC, and The Business Journals, discussing everything from the customer journey to Search Engine Optimization, eCommerce, Amazon marketing, and more. Tanner regularly shares eCommerce strategies on his website, Instagram, and Twitter.
Share Your Story Now! Have you created an intriguing website using Themify? Do you have an interesting story? Whether your site is for a business, blog, or portfolio, let us help you showcase and share your beautiful work. Please contact us.