17 Jan 2020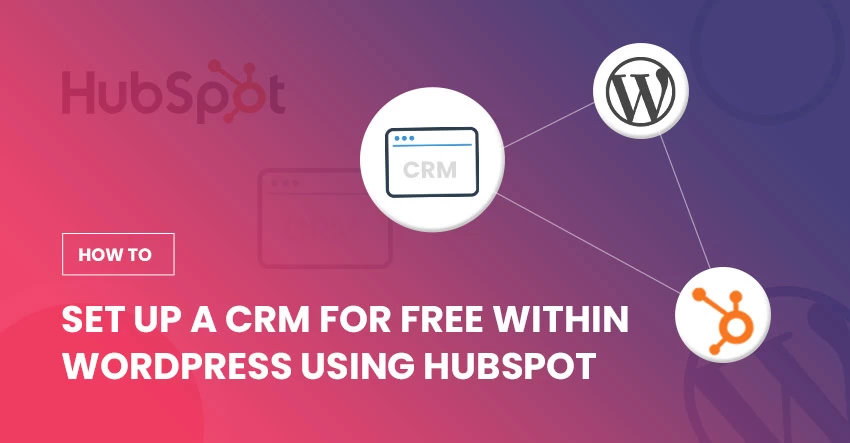 When you're first starting to build your business, managing information about the new contacts you're getting on your WordPress site is pretty easy. You might keep all of your contact information in your phone or in a spreadsheet. When you generate a new contact from an online form on your website, you typically get an email notification letting you know the basic info about the new lead. Then you follow up with an email or a call. This is how many businesses start out managing their contacts and, for a while, all is good.
But, as your business starts to grow and you have more contacts and employees, that simple system of personally following up with your leads just no longer works for you. It starts to feel scattered, hard to manage, and like you don't know where anything is anymore. You may start asking yourself and your teammates, "Did you follow up with that person? What did you say? Did they respond? What are the next steps?"
Then comes more spreadsheets, notepads, sticky notes, and forgotten details. They all start to jumble together and the growth of your business is at risk.
Sound familiar? Well in this article we want to show you how you can create a better experience for both your team and your contacts with HubSpot. HubSpot is an all-in-one CRM, Sales, Marketing, and Customer Service Platform with over 300 integrations. It allows you to manage new leads alongside the rest of your business contacts, leave notes for your teammates, track how your leads are interacting with your website, and more.
HubSpot's CRM is free (yes, free) and it now works perfectly with your WordPress website.

The HubSpot WordPress Plugin gives your business the power to better attract, engage, and delight your contacts and customers, all natively within WordPress. The plugin gives everyone in your business the ability to see everything your contacts and customers are doing on your website, take action (like email or phone call) to help them, and track everything in one tool. Now you and your teammates can stay organized with your contacts and customers without having to cobble together different plugins, tools, spreadsheets, and sticky notes.
The free HubSpot WordPress Plugin also gives you:
Storage of up to 1,000,000 Contacts
List Segmentation
Email Marketing (up to 2,000 sends per month)
Analytics
Live Chat
Conversational Bots
Meeting Scheduling Tools
Ticketing
Ad Management (Google, Facebook, and LinkedIn Ads)
See a full list of features here.
Here's how to get started with the free HubSpot WordPress Plugin:
1. Download the HubSpot WordPress Plugin from the WordPress repository.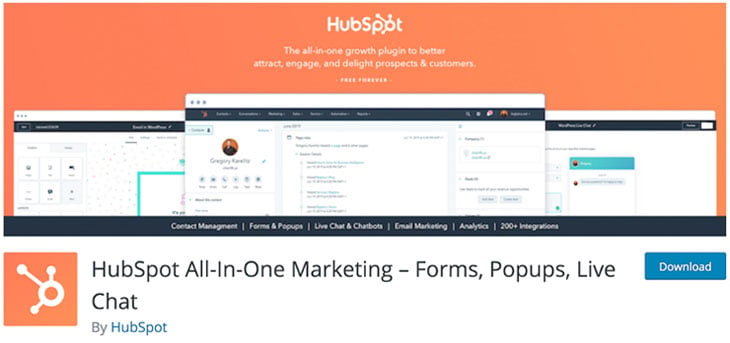 2. Create your free HubSpot account (or sign in if you already have one).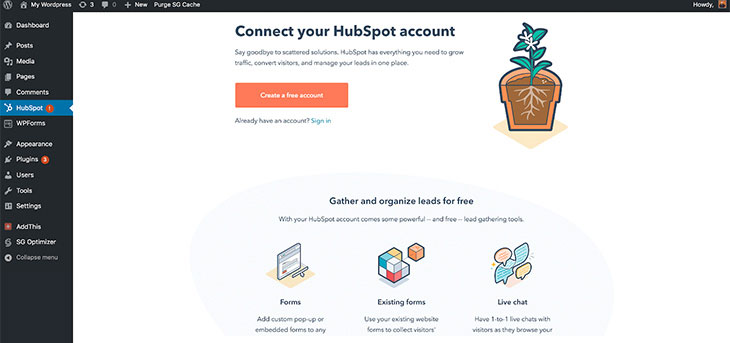 3. Start tracking your contacts within WordPress using HubSpot's CRM and see how your contacts interact with your website.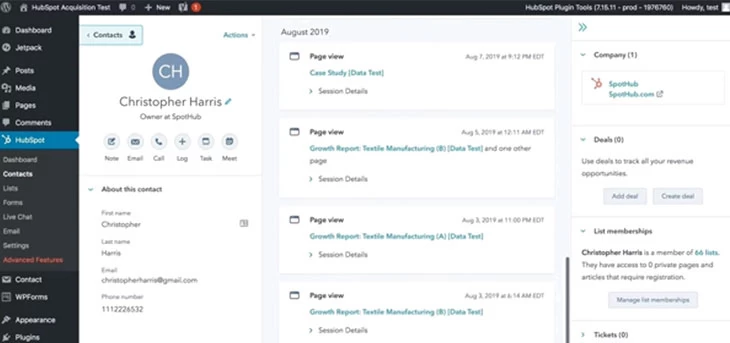 4. See the performance of your business via HubSpot's powerful dashboard—without ever navigating away from WordPress.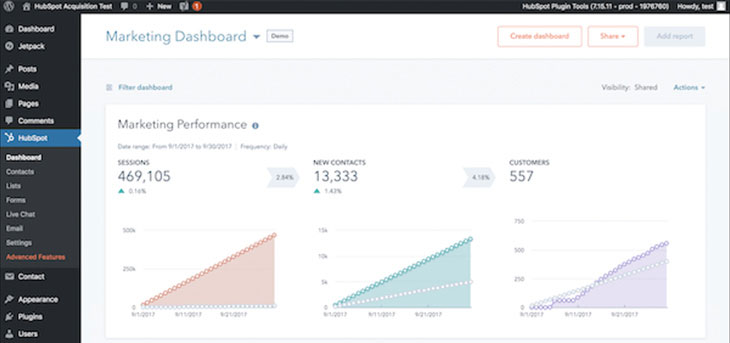 5. Use Lists in the HubSpot WordPress plugin to create personalized groups of high-intent contacts, so you can better target them.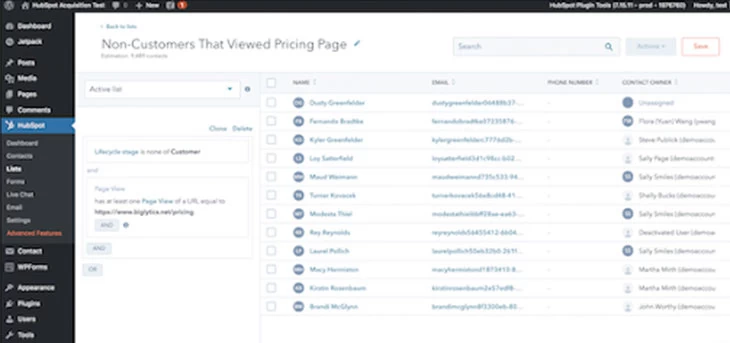 There is so much more you can do with the HubSpot WordPress plugin. Learn more about how the plugin brings the power of HubSpot CRM to you right within WordPress and see if it's a fit to help you manage your contacts and grow your business.