02 Jan 2019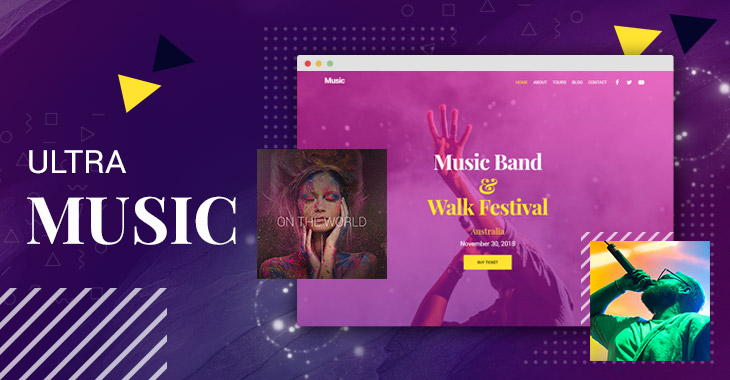 Gradient colours, bokeh effects, and geometric accents – the Ultra Music Skin is here! This skin has been tailor made for musicians, music & art festivals, and rock bands. Easily display your profile, tour dates, music albums, photo gallery, videos, and press excerpts. The Ultra theme also supports WooCommerce so you are easily able to implement an online shop to promote your merchandise and album sales.
Along with this skin, we've added two new cool features:
Live Search: As soon as you start typing, you are shown results right away. Your search query is also filtered by product, post, and page type, allowing you to do an organized site wide search that is much faster than the regular route.
Revealing Header: When you scroll down, the header conceals itself. This makes your site minimal and allows you to focus on the web content without any navigational distractions. And as soon as a user begins to scroll upward, the header reveals itself again.
Allow your musical profile to come alive and experience the vibrant Ultra Music Skin demo now.
Try the Ultra theme today, along with it's 15 bonus skins, for just $59 and custom create just about any website in the same day.
Happy New Year everyone! We're aiming to add even more skins and improvements to our products this year than ever before. What skin are you hoping to see most? Please let us know in the comments below.