07 Jan 2019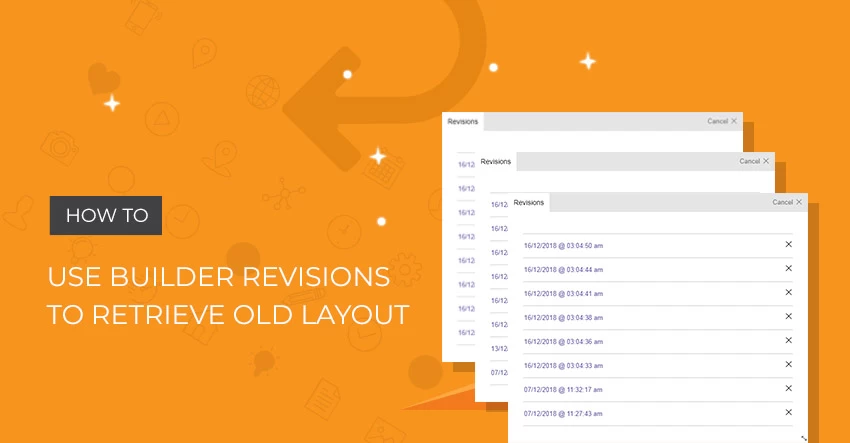 Welcome back to our tutorial series. In this edition, we'll be sharing how to save and recover specific parts or entire layouts of a page. If you've ever spent loads of time working on a page, only for an accident to change it in a way you're not happy with, you'll know that retrieving an old layout can be a huge time saver!
Themify offers a free standalone page builder for use on any third-party WordPress theme, so we'll be using the Themify Builder for this. The Builder relies on its intuitive drag-and-drop functionality, and has a revision feature, allowing you to recover previous versions of a page layout you've been working on.
You have two options of retrieving old layouts: either recover a full layout or only a specific section. Recovering a specific section of a layout is useful if you have created a great design but only want to use a part of it for another page.
1. Restore a Full Layout
Themify Builder allows you to save revisions of a page and restore them in the event they are deleted or changed in a way you don't like.
A revision is automatically created whenever you press the Builder's 'Save' button. By default the revisions are saved using timestamps but they can be saved with custom comments for easier identification.
These are the steps to save and recover an entire layout:
To load a revision, hover over the dropdown arrow on the save button and select "Load Revision"

Select the revision you wish to load.
There will be a pop up message and here you can choose to save the page before implementing the revision. You may need to do so because the changes will be lost otherwise.
2) Restore a Specific Section of a Layout
The Builder also allows you to recover a specific section of the page layout from a previous state. This is so that you can copy it to a new page layout or just recover the section you want.
Here are the steps:
You need to save the current page as a revision using the save button drop down.

Then load the previous revision that has the section you want to retrieve.
When you have loaded the revision you want to use, copy the row or module (hover over the 3 dot menu icon and select copy).

After copying the row or element, restore the layout back to the version you have saved. Then paste the row or module data (hover over the 3 dot menu icon and select paste).
And there you have it. You now know how to use the revision feature using the Themify Builder to help make editing your pages easier and worry free!
If you're looking to add beautiful photos and content to your pages, do it in style and without paying expensive fees. See our list of the 5 Best and Most Beautiful Free Stock Photo Sites.
We hope you all enjoyed this segment of our basic How-To Tutorials. Let us know below in the comments if you found this helpful, and stay tuned for more!