22 Mar 2018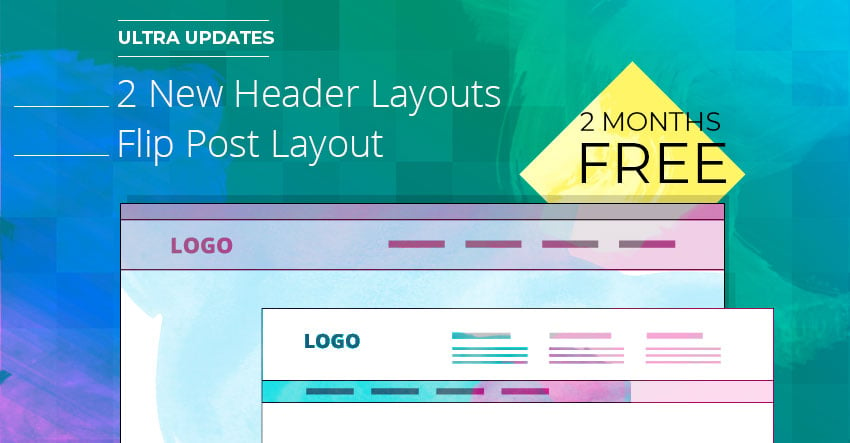 Update: This promotion has expired on March 28, 2018.
For all you Ultra lovers out there, have we got a sweet update for you! You asked, we listened, and we're now delivering 3 highly requested updates for our most popular theme. They include two new header designs, called Top Widget and Classic Header, as well as a new post layout, called Flip Post Layout. We'll highlight the 3 new updates below.
2 Month Free Trial!
We want to make sure no one misses out on the latest features that Ultra has to offer, so we're offering a 2 month free trial for everyone. Yes, everyone – including all new and existing members that haven't tried it yet. This will give you a chance to experience why we labelled the Ultra theme as the most powerful and flexible WordPress theme yet! This offer is only for a limited time, so make sure to take advantage of it now.
Note: Offer ends March 28, 2018.
Update Highlights:
Top Widget - New Header Design

This new header design allows users to easily add widgets and any other links to the top of their header menu bar. Users can add anything they want, including auto-dialing phone numbers, addresses that link to a map, as well as every social media widget, which act as quick links to every social platform, as well as texts, icons, and html codes. Not only are your top site links easily accessible, but as you scroll down, they slide up to temporarily disappear, creating a very clean and functional user experience.


Classic Header - New Header Design

This new header design is a nod to the more classic and timeless headers. With this header, users can now create a page with a fullwidth menu bar. The header disappears swiftly also as you scroll down to the latter content, allowing for a visually streamlined experience. It's simple, it's classic, it's an old school design that's been trusted through the ages.

You can see the list of all our header designs here.


Flip Post - New Post Layout

This new post layout uses a neat trick that flips the main image of a post to reveal its text, hence the name. Flip Post Layout works great as an archive post page, where the main images for a variety of posts appear as tiled icons. The user can then hover over each image to view the text and further click the icon to head to the post.