15 Jul 2019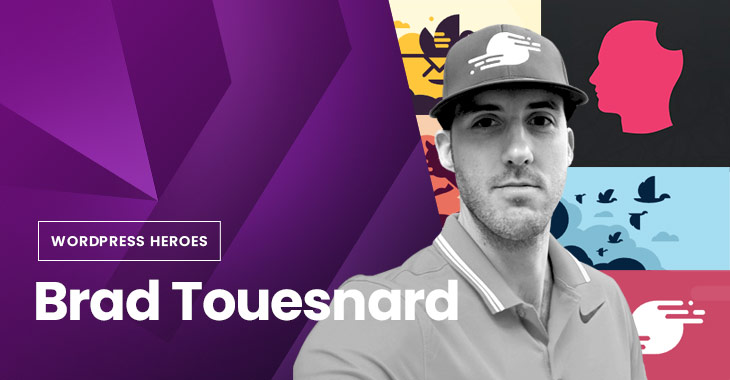 For this month's WordPress Heroes story, we've got Brad Touesnard of Delicious Brains who's been the creative force behind a variety of WordPress plugins. He got his start after experiencing a pain point migrating a WordPress site for an agency he worked for at the time. (We've also got a tutorial on migrating a WordPress website from localhost to live server if you're looking for that).
We welcome you to grab your favourite beverage, and curl up to read how this savvy entrepreneur started and created his own SaaS (software as a service) company.
1. Hello Brad! Please tell our readers about yourself.
If I start at the beginning, it would be when I taught myself how to program in Perl, in high school after learning HTML and a little bit of JavaScript. Then I went to college, got a computer science degree and started a web hosting company with my college roommate. I wrote all the software for that web hosting company; the control panel, the billing system, an e-commerce system, the website, the whole thing. Everything was written from scratch.
I was a freelancer for a long time. My business partner ran the web hosting company, for the most part. I would add features part-time while he ran the business full-time. In 2011, I tried to hit a home run of a business and I started WP App Store. I then pivoted to the business that I'm running today, which is a WordPress plugin company called Delicious Brains Inc.
2.  How did you find your way into the WordPress industry, and tell us about your company.
I was working at an agency in Vancouver in 2008. And we worked with a bunch of different CMS's but then I started getting really into WordPress. I had had a WordPress blog since 2004 or 2005 but I'd never really done a lot with it, besides playing around with themes and stuff.
It was during this time that I came to use WordPress more in a professional capacity building websites for clients. I actually created the first version of what would become Delicious Brains Inc.'s first product, WP Migrate DB Pro. I created the free version of that plugin while I was working at the agency because I experienced the pain of having to move a site from the dev environment to a staging site, having to modify the database manually. That's essentially where my company, Delicious Brains Inc. got its start.
We have three WordPress plugins now: WP Migrate DB Pro, WP Offload Media, WP Offload SES, and we also recently launched our first web app or SaaS app called SpinupWP, which is being really well received with WordPress developers looking to spin up really fast servers to host their client sites.
3. What does your daily routine look like?
I get up around 7 a.m., help my wife get the kids ready, see them off to school, then have some breakfast. Usually, I have some kind of extracurricular activity that I try to keep up in the mornings. Right now I'm learning German through Duolingo and I'll do 10 or 15 minutes of it before starting my day.
Usually right around lunchtime, I'll take a pretty big meal break and do some exercise, either yoga or go for a run. Some days, I can't do that because of meetings and shorter lunch breaks, so the exercise gets pushed to later in the day. My mornings are often filled with meetings with my UK contingent. Because of the time shift (they're four or five hours ahead), we usually have to collaborate with them in the mornings.
I usually finish my day between four and five o'clock, then I'll cook dinner. I cook dinner during the weeknights and my wife cooks on the weekend. We usually have something going on in the evenings. The kids will have some kind of activity or sports to go to, and I coach hockey in the winter, so I'm pretty busy all evenings throughout the winter.
I'll also try to get out a couple of times per week in the evenings to play tennis in the summer or in a hockey league in the winter just to get some socializing in and some exercise as well.
4. What advice can you provide those looking to start their own SaaS business?
I think the first step in starting a successful SaaS business is choosing the right idea. One podcast that you ought to listen to right now is The Art of Product podcast. Those guys, Ben Orenstein and Derek Reimer, are kind of struggling with this very question and working on this journey themselves. So, that podcast is an excellent thing to listen to at the moment.
One thing they've talked a lot about is a book called The Mom Test, which is a way of talking to people to learn about an industry or learn about the problem or space that you're thinking about attacking, and just basically doing customer development the right way. In addition to choosing the right idea where there's a viable business, you have to also choose an idea that's compatible with what you're trying to achieve.
If you really don't want to manage people, if you don't want to have a team, you don't want to be in meetings, you just want to be a solo business person, you're going to have to eliminate a lot of business ideas. Because many businesses are going to require building a team.
5. What were the 3 biggest decisions you had to make to advance your career or business?
Probably the first biggest decision I made to advance my business and career was when I reached out to Adii Pienaar of WooThemes. He is one of the founders of WooThemes, and he was (I believe) the CEO at the time. He had a page on his website that just invited other entrepreneurs (or wantrepreneurs) to submit a form on his site that just pitched him their idea. So that's what I did.
I had this idea for a marketplace built into the WordPress dashboard, I pitched it to him, and then I built a prototype. His company, WooThemes, ended up investing and the folks at Gravity Forms did as well. I built something, then it didn't go anywhere. But that was still an incredible experience because Adii introduced me to the whole WordPress community. As a result, I became better known in the WordPress community which was a huge boost for me. When it came time to pivot away from WP App Store to something else because WP App Store wasn't working, I was able to use those connections to launch WP Migrate DB Pro which really helped.
Probably the second biggest decision that I made that has impacted my business was hiring my first employee. I had definitely been in the camp of not wanting employees and not wanting to manage people. But at a certain point, I just decided it was time to grow up and give it a try.
I went through the process of hiring my first employee, really not knowing what the hell I was doing. It turned out okay but the main point was that I got over this fear of managing people. Soon after, I hired my second and third and fourth employee, and now we're a team of 10, and I wouldn't have it any other way. There's no way I could have done what we've done as a group if it was just me.
I'd say probably the third biggest decision that I've had to make, and is probably the hardest decision I've had to make, is firing an employee. It's something that has to be done from time to time when you're running a business. You make hiring mistakes, and then you have to let somebody go. I think as much as I hated it, and as much as I procrastinated doing it, I realize now that it's one of the things that has allowed our business to thrive because we don't have people that are a drag on the business, which is what happens when people aren't let go when they should be.
6. Are there any decisions you regret?
I would consider a decision that led to a failure to be something that I would regret. But I only consider something a failure if we don't achieve the expected goal and don't learn anything. For example, Mergebot was a product that we tried to build, and it didn't end up succeeding. But we learned a ton of stuff along the way of building it so I don't regret building that product and working on it.
Another example would be hiring people that I've then had to let go. I wish that we could have identified upfront that a person wasn't a fit for our company. But ultimately, everyone makes hiring mistakes and you just learn from them and you try not to repeat them in the future. I can't really regret those decisions either because it's all a learning experience.
7. What are your favorite tools and apps you use on a daily basis?
Well, I don't know about favorite, but I use Slack a lot during the day, though I do find it can be distracting. We've put some policies in place that have been helping with that lately. We also use Gmail, Google Docs, Sheets, and that whole suite of apps a lot. I use Sublime Text a lot as well and I'm a big fan of Todoist to manage my to-do list. Skitch is what I use to mark up screenshots to show my designer or devs what I'm trying to tell them visually. I'm a big fan of 1Password as well, I use it every day in Chrome. I've also tried to switch to Windows and to Chrome OS, and to iOS on an iPad Pro, and I have been unsuccessful in coming close to matching my MacBook with macOS. macOS is still by far the best environment for me to work in.
8. What are your next steps and goals for the short and long term future?
Our strategy for growth is to build more awesome products that service our developer audience. That includes developers that are working for themselves as freelancers, working in an agency or working in an enterprise, building tools for all developers. Right now we're mostly focused on WordPress developers, but I can see us branching out beyond that in the future.
Every year, I do a year in a review blog post. So, if you're interested in keeping up with how things are going with Delicious Brains Inc and myself and where we're headed, you can subscribe at https://deliciousbrains.com/.
Thank you Brad for taking the time to share your story! We hope you all enjoyed it, and if there's anyone else you'd like us to interview next, let us know in the comments below. Stay tuned for the next edition of WordPress Heroes, and in the meantime, see more inspiring stories from our customers who took that leap to begin their business using WordPress.