29 Aug 2019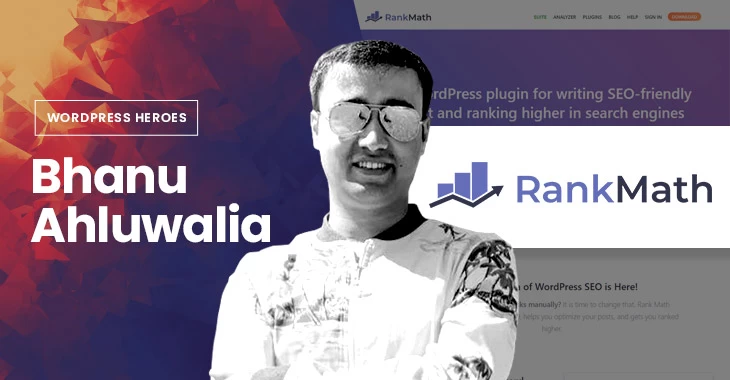 Ever wonder how WordPress products are made and established? Our WordPress Heroes series aims to fill you in and give you the backstory behind various successful SaaS and WordPress businesses. This month's story comes from Bhanu of Rank Math, a relatively new yet free WordPress SEO plugin, with a rating of 4.9 on WordPress with 80k installations!
So settle in with your coffee, tea, wine or whisky, and see how this 8 month old WordPress SEO plugin became such a hit! (Speaking of SEO, you might want to keep your website images optimized with this easy peasy tutorial).
Now, without further ado, let's hear it for Bhanu.
1. Hello Bhanu! Please tell our readers about yourself.
Hello people of the internet! My name is Bhanu Ahluwalia, I'm one of the founders and partners of MyThemeShop as well as Rank Math.
Prior to all this, I graduated from the International Institute of Technology Training with a degree in Computer Technology. Shortly after I was a social media consultant at Digg until I started blogging and later became a Google AdSense premium publisher as you'll find out below.
2. How did you find your way into the WordPress industry, and tell us about your company?
I started out as a blogger and quickly became a Google AdSense premium publisher. We always found it hard to find fast WordPress themes to use on our own websites, so my partner and I decided to launch a theme company back in 2012 to build something for everyone in the WordPress community, including ourselves.
Similarly, in 2015, we found that none of the SEO plugins available on the market were complete solutions that had everything we (as well as other WordPress users) needed. So we started developing an SEO plugin for our own internal use. Over three and a half years later, the demand for us to release the plugin publicly was quickly growing, so we decided to do so in late 2018. It was very well-received by the community having grown to over 70,000 active installations in just under 8 months.
3. How has your plugin grown so quickly, and how do you market it?
Our fundamental marketing strategy isn't as complicated as some might think – our focus is on word of mouth. How do we leverage this? It's all quite simple: We created a great product that people fell in love with.
It's important to note that the WordPress SEO plugin industry is densely populated by competitors that occupy a relatively large share of the market and will continue (at least for the foreseeable future) to do so simply because of their product's age (legacy). Considering this, Rank Math's growth rate has significantly exceeded others and our expectations.
I believe people love working with Rank Math once they try and test it against other solutions, and this helps contribute to why we've been able to grow at such an unprecedented rate. In most cases, people who switch to Rank Math become fans of the plugin and start recommending it to people they know that also use WordPress.
Of course, as a WordPress SEO plugin, one might not be surprised to hear that search engine optimization is another big part of our marketing strategy. Beyond this, we also maintain a very active Facebook Group for SEOs where we've created a nice forum where people are not only able to get help with Rank Math from other members of the community but also share what works for them and how they're growing their sites.
As of right now, we're approaching the 10k member milestone, which is extremely exciting and we're honored to be able to help and host discussions with and for such a huge group of people in the industry.
4. What does your daily routine look like?
I get up at 4:45 AM, carry out my morning breathing exercise (Hoffman breathing). Then I head over to my desk and start responding to all of my emails and working through the tasks that I need to do on a daily basis. This takes about 3-4 hours and once I finish everything, I go for a jog.
Then I head out and enjoy the rest of the day with friends, read something useful or just relax. In the evening, before going to bed (usually around 8:45 PM), I also check my emails again.
5. What were the 3 biggest decisions you had to make to advance your career or business?
I didn't pursue an MBA although I was among the highest-performing students in the entrance exam in all of India at the time.
Finding my business partners who are not only great at what they do but are also great, passionate humans. They're honestly like brothers to me.
Choosing to release Rank Math publicly and face some backlash from users that were comfortable with old SEO plugins they had been using for years.
6. What are some of the greatest difficulties you've faced while running your own company?
I think sticking to plans can be quite difficult. Often we start working on something while we also have other things going on which can make things difficult but at the same time we also learn a lot from this and are able to implement newer things.
I wouldn't consider this a terrible difficulty, but there are also a number of people who have worked with us for over 6 years whom I haven't met in person which is something I'd really like to be able to. However, I suppose this has become the nature of distributed companies in this day and age – much like MyThemeShop & Rank Math which are 100% distributed/remote.
7. What are your favorite tools and apps you use on a daily basis?
The tools and apps that I use on a daily basis vary quite a bit but here's a "short" list of those I use consistently:
The Clock App
Sublime Text
WordPress
Slack
HelpScout
Firefox/Chrome
Blinkist
Notes
Facebook
Google Analytics
The Google Search Console
Trello
YouTube
8. What advice can you give those looking to start their own SaaS business?
If there's one thing I would say, it's that you shouldn't start developing or hiring people to develop a SaaS or any product for that matter just because you're in it for the money. The goal should always be to help people and solve problems. Money and fame should always be secondary to those goals. Building something just for the sake of it without actually understanding who your customers are is difficult – if not nearly impossible.
The second bit of advice I can offer isn't something very unique as I'm sure we've all heard it because it's just so true. If you want to go fast, go alone. If you want to go far go together. Surrounding yourself with great people with similar mindsets, different skill sets, and other opinions is always going to put you at an advantage. I feel very lucky to be part of a team who are not only very professional but also very talented and fun-loving people.
9. What are your next steps and goals for the short and long-term future?
Our primary focus for the foreseeable future will be to launch the premium version of Rank Math which will be targeted towards more advanced users. It will also continue helping bloggers, website owners and agency owners all over the world take control of their technical, on-page SEO by reducing the number of tedious tasks they need to handle on an everyday basis. We're also working on a huge update for Rank Math that will improve support for the Gutenberg block editor as well as many popular page builders.
With regards to MyThemeShop, we're also working on a huge overhaul of our fast & SEO-friendly Schema WordPress theme – so clearly, there's a lot to look forward to!
- Bhanu Ahluwalia
Thank you Bhanu! Stay tuned for the next edition of WordPress Heroes, and in the meantime, see more inspiring stories from our customers who took that leap to begin their businesses with WordPress and Themify.