17 May 2019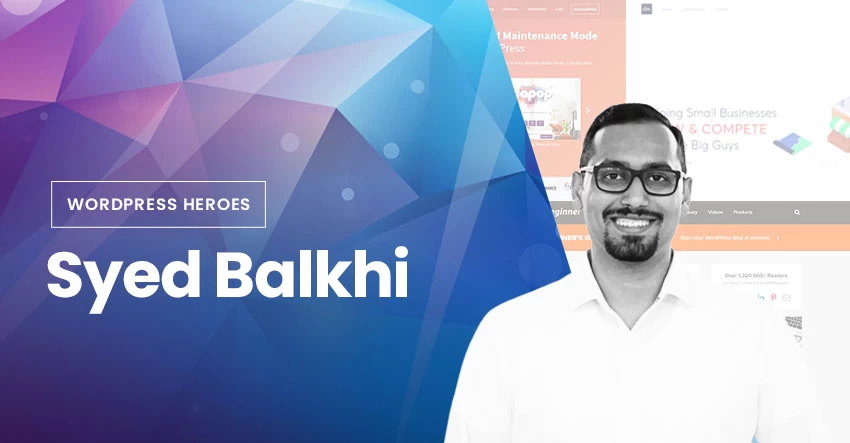 We're launching a new interview series called WordPress Heroes featuring your friendly, neighbourhood WordPress community leaders!
If you've ever wanted to go for coffee with a SaaS founder or a WordPress company leader to pick their brain and glean some helpful advice, this is a great opportunity to do just that. So grab your cup of coffee, tea, or wine, and settle in to see just how far they've come and what they've learned in the process.
For our first interview, we're excited to be featuring Syed Balkhi, a successful and young entrepreneur creating company after company in the WordPress environment and beyond. He's been featured in the top 100 entrepreneurs under the age of 30 by the United Nations and he's also been quite involved in philanthropic work. Without any further ado, let's hear from Syed himself in our first ever WordPress Heroes series.
Hello Syed! Please tell our readers about yourself.
Hi, my name is Syed Balkhi. I'm a 28 year old entrepreneur and founder of Awesome Motive - the management company behind the popular WordPress resource site, WPBeginner, and several well-known plugins such as OptinMonster, WPForms, MonsterInsights, SeedProd, and more.
Prior to starting my WordPress business, I dabbled in many online ventures including domaining, SEO, web development, affiliate marketing, and traffic generation.
I started my online career when I was 12 years old because I wanted to earn some extra cash. My family had just migrated from Pakistan to USA, and I wanted to help my parents since, like most immigrant families, we struggled financially.
How did you find your way into the WordPress industry, and tell us about your companies.
I discovered WordPress in 2006. At the time, I was doing consulting and affiliate marketing. I started using it for some of my own websites, but I didn't get involved in the WordPress community until 2009.
In 2009, I launched WPBeginner because I felt a resource for non-techies was needed. Prior to WPBeginner, most WordPress resource sites were built for developers by developers. Now we're coming up on our 10 year anniversary, and WPBeginner is the most popular WordPress resource site for beginners. Our suite of plugins are running on over 9 million websites.
What does your daily routine look like?
My role has evolved quite a bit over the last decade. In the early days, I did a little bit of everything. From design, to code, to marketing, to operations, to finances, and so on.
Now my day to day is focused on helping leaders within our organization grow to their full potential. A good portion of my time is spent on strategic planning and business development for our various businesses.
What kind of advice can you provide for those looking to start their own SaaS business?
Often I find new entrepreneurs make things more complex than they have to be. This slows them down and sometimes lead the business to die before even launching.
Complexity is the enemy of execution. Keep things simple, and just start. You'll figure things out as you go along. As the German proverb says, starting is easy. Persistence is an art.
What were the 3 biggest decisions you had to make to advance your career or business?
This is a tough one, because I have had to make several big decisions to grow our business. One of the best decisions I made was to find a smart co-founder in each of my software businesses. Partnering with Thomas for OptinMonster, Jared for WPForms, Chris for MonsterInsights, and John for SeedProd has truly been a blessing. They bring out the best in me, and I know they always have my back. Working alongside such smart entrepreneurs has helped me grow personally in many ways.
Another decision I made that helped us move forward a ton was to step down as CEO of OptinMonster. I was the acting CEO of all our companies, and this made me the ultimate bottle-neck. Last year, I stepped out of OptinMonster's day-to-day, and Thomas became the president of OptinMonster. This has led to an increase in product innovation and overall business growth because Thomas is 100% focused on OptinMonster.
This change also allowed me to focus on WPForms and really catalyze it's growth over the last year. We just passed 2 million active installs on WPForms, and I'm in the process of stepping out and turning the leadership role over to Jared.
Last but not least, I launched the WPBeginner Growth Accelerator Fund six months ago. As part of it, I invested in WordPress-focused companies including: MemberPress, Pretty Links, Affiliate Royale, Formidable Forms, and SeedProd. The network we've built through this fund has been amazing. We're all already starting to see the benefits. Working with smart entrepreneurs trying to solve WordPress problems is a dream come true.
Are there any decisions you regret?
I honestly don't have any regrets. I have made a lot of mistakes in my career, and each of them have thought me a lesson. I would never consider a learning opportunity as a regret (no matter how expensive they are sometimes).
What are your favourite tools and apps you use on the daily?
As a company we use a lot of apps. I personally am a huge fan of Asana. Of course I use WordPress on a daily basis :) I spend a lot of my time on Slack and Google Suite (Gmail / Drive / Sheets / etc) as well.
What are your next steps and goals for the short and long-term future?
My goal is to continue helping small businesses grow and compete with the big guys. This means continue building our products and serving our user's business needs. We also have several new products in the pipeline. They will be released over the course of the next few months (so I can't talk too much more about these).
I love the WordPress ecosystem, and I want to continue being involved in this community.
We hope you all enjoyed Syed's interesting and inspiring story. Thanks for taking the time to read it, and please let us know below who we should interview next. Stay tuned for the next edition of WordPress Heroes, and in the meantime, see more inspiring stories from our customers who took that leap to begin their business using WordPress.