New Styling Features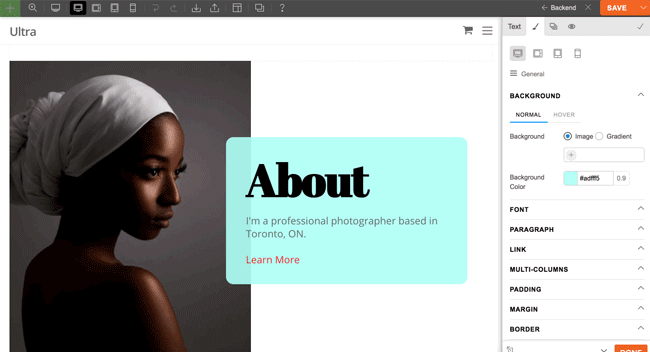 Hover Styling
We've added many new styling options to help modernize your designs and the way you create them. Hover styling is one of the most exciting styling features. All Builder styling options now have the hover state option. With hover styling, elements can change their colour, background, font, etc. when the mouse is hovered over it. Make things glow, expand, shrink, pop, and camouflage, all with hover styling.
Height and Min-Height
Height and min-height styling options come in handy when you need to set an element at a specific height. Let's say you want a row to be half the height of the viewport, you can add 50vh (viewport height) to the row. In the past, users rely on padding to achieve a similar result. Now, using height property would give you a more precise result.
Rounded Corners
Don't like the sharp and squared corners? Make it rounded then. Adding rounded corners is very easy with the latest update. To apply rounded corners, simply drag the input like you do for padding and margin. You can add a different value for each corner or have all corners be the same.
Text Shadow
Previously we added gradient font styling which is now a popular styling feature. We are pleased to introduce the text shadow feature in this release. It is a great feature to make large headings pop! You can also use the text shadow styling to make the text glow.
Shadow
Combining shadow styling with the hover feature, you can make things stand out. The new shadow styling feature supports RGBA colour, so you can apply nice semi-transparent soft shadows that blend in with the background.
Blend Mode
If you are a Photoshop user, blend mode will be a familar term to you. Now you can apply blend mode to any row or module without Photoshop. Try to set a row with parallax scrolling background and insert an image module with a blend mode selection - this will create a stunning scrolling effect.