18 Oct 2019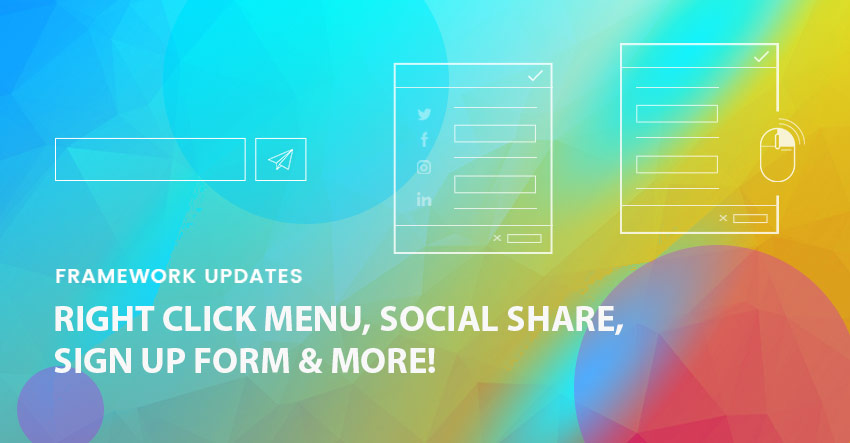 We've been working on some new and exciting developments to make your website designing days a breeze! They include a new signup form module, a new social share module, a whole new right-click user interface, and other awesome performance feature updates.
Let's get right into the new changes and explore what you can do with our latest framework update!
New Signup Form Module
Stop your search for a WordPress signup form plugin! We've developed a brand new module allowing you to drop a signup form, anywhere on your site. Integrated into the Builder, the signup form module allows you to control every aspect of its look and feel. You can customize the font, field labels, signup requirements, and more!
You can also opt to include and change all field labels, including first and last names, a short bio field, what action should take place after a successful signup, and even write your own custom success and error messages. Take the reigns and start custom designing your own signup form to help run your membership site and grow your user count.
TIP: You can view and moderate your users by going to WP admin > Users. This bit also comes in handy when you perform signup form test runs!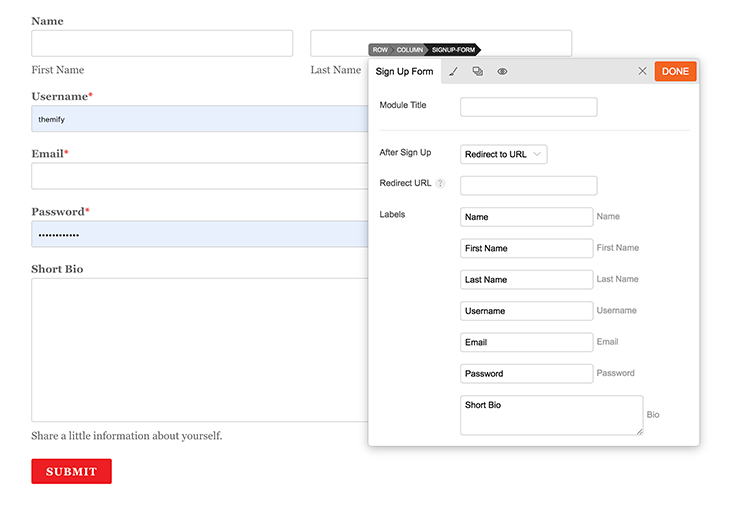 New Social Share Module
Increase your social share activity and mentions with our new social share module. Social icons include Facebook, Twitter, LinkedIn, and Email, and you can drop them in anywhere around your blog posts! You can also easily add share buttons using the Builder Pro when creating single post templates, without any third party plugins.
Choose to display your social icons in an iconic badge style or a transparent classic version, and even custom pick your own colours. You can also change the icon shape and size, and opt for a vertical or horizontal arrangement.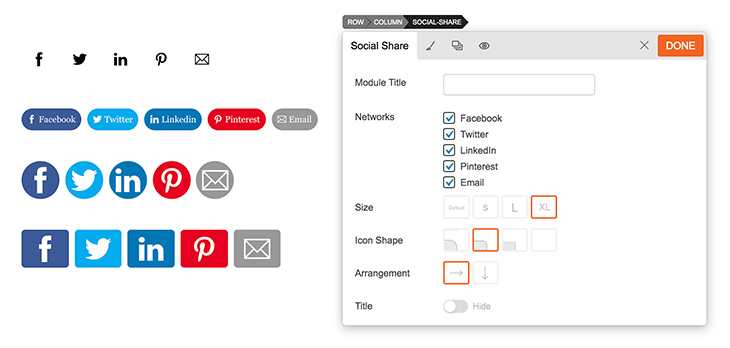 Right Click Interface Menu
We've created an all new shortcut to make your editing days faster and easier, using a right click interface option. Rather than double-clicking a module, then selecting your action, just right-click the module, and quickly get to where you need to go.
This includes editing, copying and pasting a module/styling, or applying a Global Style onto a module on the spot. To enable Right Click mode: Turn on the Builder > select Interface Options > toggle the 'Right Click' mode on > and right click anywhere on the live preview to open the right click options panel.
TIP: You can delete more than one item at once! Select multiple items (select a module + Command + select another), then right click > delete, or hit Cmd + delete on the keyboard.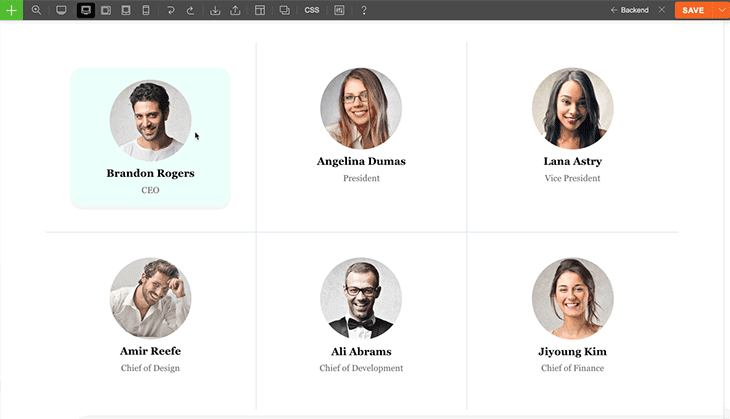 New Subscribe Options: Contact Addon & Signup Form Module
They say you should be starting your email subscription list from day one, so we've got two new options to help you grow your subscriber list, via the Contact addon and the Signup Form module. The Contact addon is a minimally designed subscription option so that you can capture all visitors, especially if they're not the form-filler types. There will now be a check-box for users to instantly opt-in to newsletters on the spot.
Same goes for the Sign Up Form module - the new newsletter subscription option will allow those who fill out the form to instantly opt-in to newsletters while submitting the form. Yay!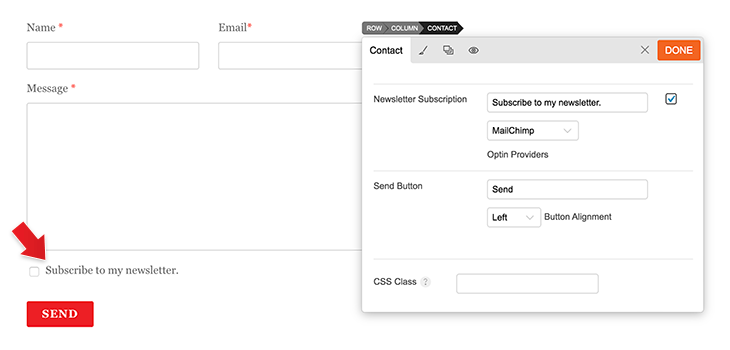 Site Load Performance Improvements
Aside from of all these nice new features, we've added two page load improvements that can make your site load faster and improve your Google PageSpeed Insights score. If you want to boost that PageSpeed score now, check out our post on how to score A+ on PageSpeed Insights. Let's take a look at the two page load improvements:
There's a new option to load asset files (CSS and JS files) either in the header or footer. The purpose of loading asset files in the footer is to avoid the "eliminate render-blocking resources" concern on the PageSpeed Insights report. There are some pros and cons of either option. If the asset files are loaded in the header, you won't see any design rendering delay on the frontend. However, PageSpeed Insights suggests to load asset files in the footer. The downside of loading asset files in the footer is when visitors view the page, they will see a slight delay in design rendering as the browser loads the content first before the CSS and Javascript files.


Now all scripts (CSS and JS files) in the theme and Builder framework have the GZIP version. With the GZIP compression, the script file size can save up to 70-80%. To give an example, lets say the Ultra theme's original style.css has a file size of 122kb. After it is GZIP compressed, the file size is only 26kb. GZIP compression doesn't cause delays in site rendering, but the file load size can be reduced up to 70-80%. This is how it works: our themes include a GZIP version of all CSS/JS files, when a visitor views your site, it checks if the server has GZIP enabled, then loads the GZIP scripts.
To enable GZIP, go to Themify > Settings > Theme Settings > Performance & Minify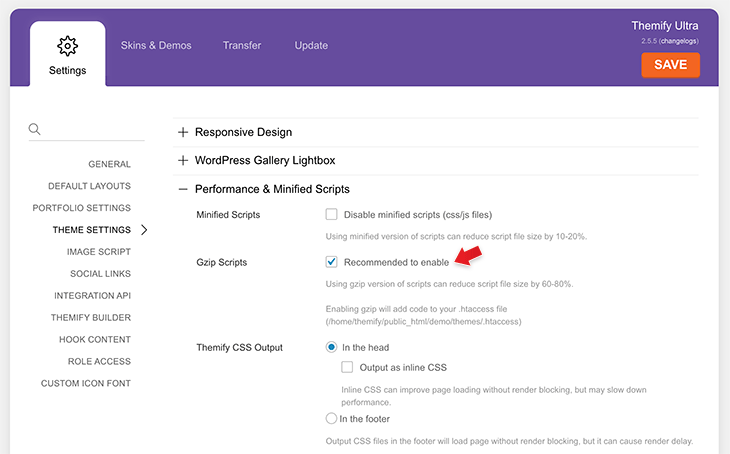 Important Updating Tips
To start using all these new features, simply update all Themify products to the latest version using the Themify Updater plugin. Please ensure you update all Themify products you are using (especially all Themify themes, Builder Addons and the Builder Pro) for optimal performance! If you haven't yet, sign up for a membership today to start accessing updates to your Themify products, with file downloads, and support service!
Don't forget to let us know what you think of these new updates below, and we're also all ears for your suggestions. Enjoy!