06 Mar 2019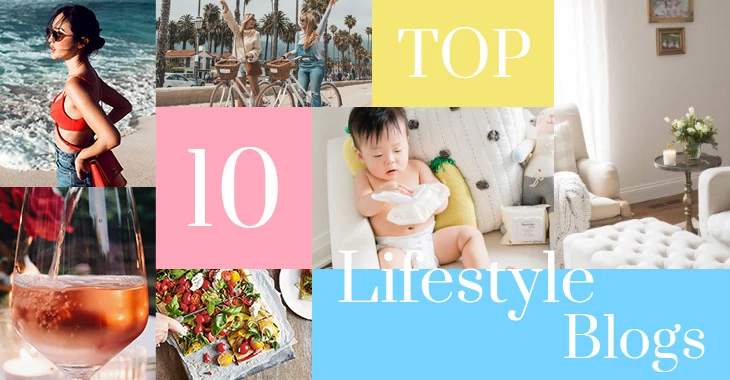 If you're wondering how to start a lifestyle blog, the first thing you should do is decide which topics capture your interest best. Speaking on what you're passionate about will easily generate the best content. Finding your niche will also help determine what style of blog to create and which layouts better favour your particular focus.
Whatever your target, one key factor of the most beautiful and successful lifestyle blogs is that most all use WordPress! WordPress lifestyle blog themes put the control back in the hands of the user, allowing even the most technically unsavvy to publish blog posts and stylishly edit their content.
But without a little inspiration and a few WordPress tips & tricks, it's hard to know where to begin and how to emulate the best of the best. We've done the legwork and put together the ultimate lifestyle blog WordPress theme, the Ultra Lifestyle. You can instantly have an identical site with our 1-click demo import and just edit the content.
To get you inspired and blogging, take a look a list of the 10 most beautiful and stylish lifestyle blogs, with various WordPress design tips, to get you inspired and blogging!
(Ps. Despite the fact that this is a numbered list, all these blogs have something to offer despite their ranks. We hope you get all the way through and we'll meet you on the other side!)
Top 10 Lifestyle Blogs to Follow and Read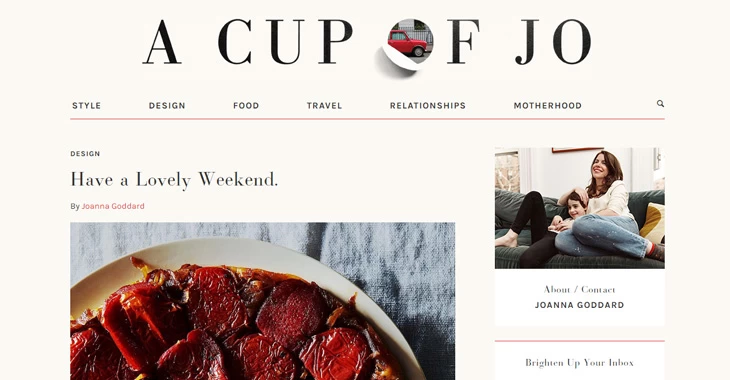 Possibly one of the first 'mum-bloggers', Joanna Goddard from Cup of Jo shares a slice of her New York life from real relationship talks, to beautiful stories on everything from being vibrantly single or dealing with cancer. You definitely don't have to be a mother to appreciate the sometimes awkward but real issues the team at Cup of Jo confront (such as farting in front of your partner, or how to write a condolence note).
The homepage features a classic blog layout listing posts from the most recent and so on. The 5 most popular posts on the sidebar is a helpful feature that'll guide new visitors to your best posts. You can narrow your search by browsing a category and you'll see interesting photos accompanied by catchy blog titles. Creating custom menus so that categories are featured are dead useful and easy enough to do on your own!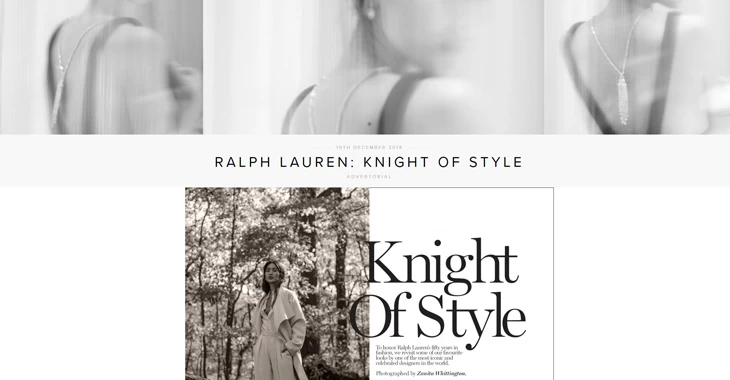 Nicole Warne is the Australian beauty behind the successful and fashion-focused site Gary Pepper Girl. The site started as a bonafide vintage reseller and it grew massively. Taking the Gary Pepper Girl persona to new heights, she made history as the first blogger to be signed by IMG and the fashion deals are continuing on in.
The landing page makes a big impression with its minimalism, negative space, and artistic photos. This simplistic website layout provides a great environment for the oftentimes busier fashion photos and editorial-style images used in each blog post. One nice treat is Nicole's travel section, most of them featuring beautiful sweeping landscapes of her travels with her photographer husband. Use the Responsive Column feature to let your images take centre stage but not overwhelm the reader.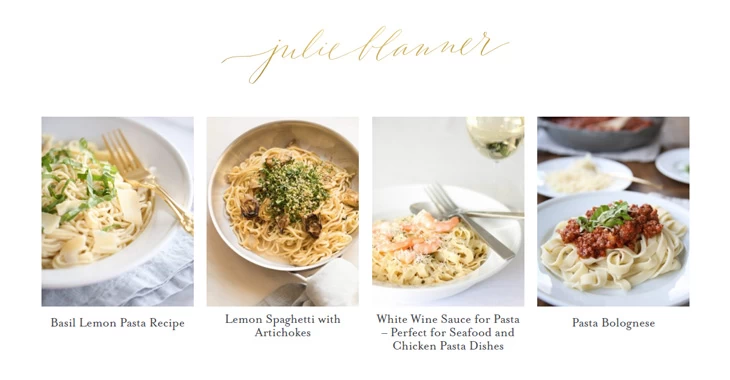 Julie Blanner started off as an event coordinator, using her eye for style and design to create her own event planning firm. She eventually moved on to share her best entertaining and styling tips through her blog, and success has followed suit. She's been featured in People, Southern Living, and Good Housekeeping among others.
Julie's love of classic neutrals and soothing tones is evident throughout her blog and it's almost therapeutic to browse through her beautiful recipes and gorgeous interior design photos. Her online shop integrates affiliate links from Target, Nordstrom and Wayfair, in an elegant and clever way. See how you too, can tastefully display affiliate links on your site to boost your eCommerce profits.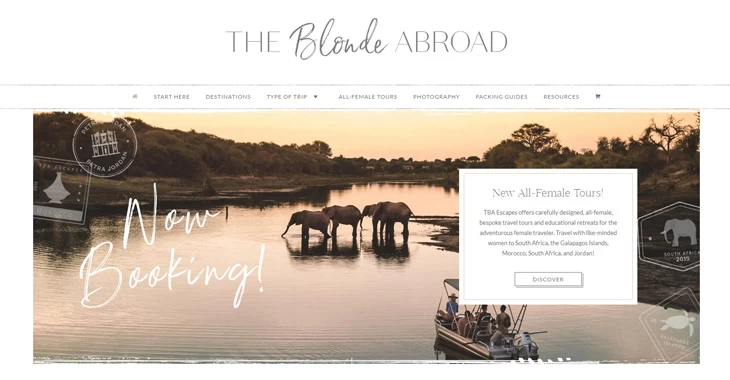 The Blonde Abroad blog tells the ultimate travel story that never gets old – an employee in the financial world quits their day job to travel. But Kiki's journey, from a young financial professional, a Hollywood spokesmodel, to her solo non-profit travelling trips are sure to help anyone feel emboldened and inspired to tackle their first solo venture.
The Blonde Abroad has now bloomed from a travel blog to offer bespoke travel tours and educational retreat experiences. The FAQ section expertly uses a content box, similar to the Accordion module, to feature the most popular questions without bogging down the page with a myriad of answers. There's lots to read and see, and is sure to be a traveler's reading delight.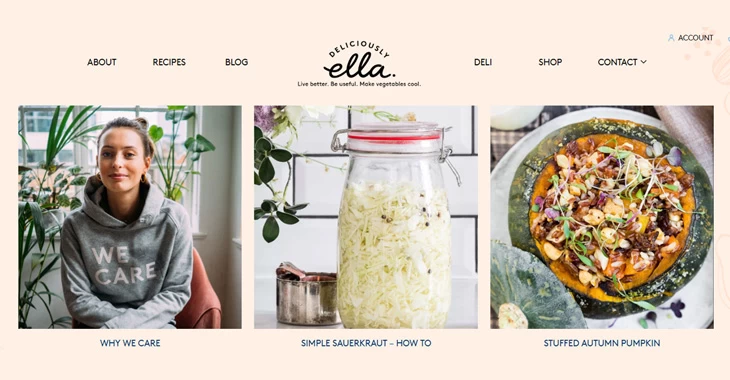 Since 2011, Ella Mills has been serving up mouth-watering plant-based dishes and recipes, before all things plant-based became super profitable. She's shared how the blog was born out of a time of health illness and has documented her journey of learning to cook delicious and nutritious food, to the successful 130 million hits it has since received.
Deliciously Ella's strongest suit are the easy-to-read (and perhaps screenshot) recipe layouts. Each blog post features food photos of such high quality so that you can plainly see the consistency of each grain of peanut as you blend it slowly into a paste. Ella also seems to personally reply to the comments on her blog which is always a nice touch from a bustling site, and also easily done via the WordPress comment panel.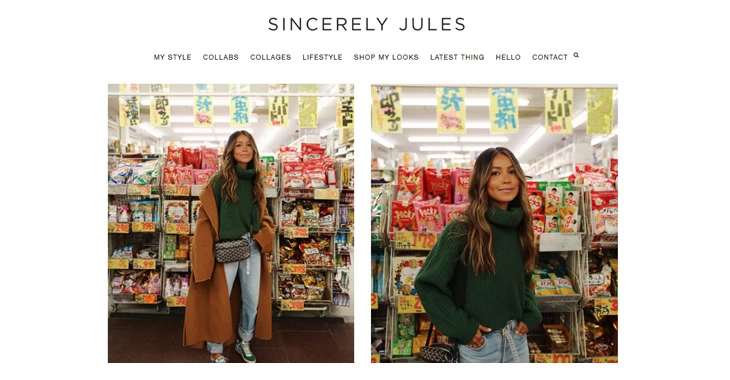 Julie Sariñana began inspiring others through fashion and style through her pet project Sincerely, Jules. What started off as a creative outlet, grew into a cult site for fashion aficionados and style influencers. Her can-do attitude and hard working spirit provides the backdrop for her colourful and daring looks, encouraging the reader to also boldly step out and take a fashion chance.
Her site features a clean and minimal layout allowing her vivid fashion looks to stand out beyond the white background. Contact forms don't have to be complicated! Sincerely, Jules' proves that point using a contact page that features a simple and neat contact form, one you can easily replicate with Themify's Contact module.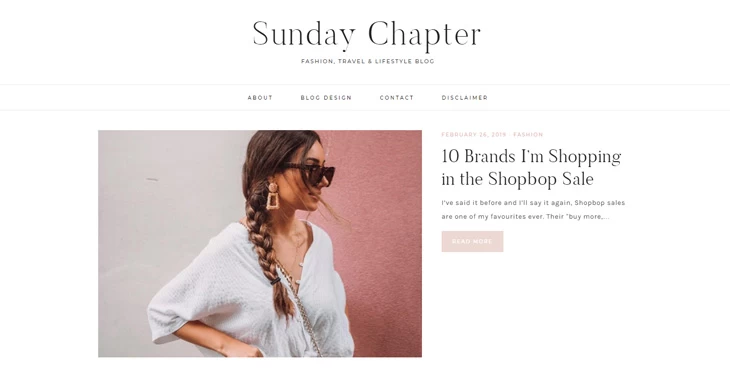 Angela, the creative and ambitious lifestyle blogger behind The Sunday Chapter, began the site in 2014 with a mind to inspire others to a more stylish and adventurous life. She's clearly doing it well, using her clever eye for aesthetics and beauty to feature photos of her style and travels with the most consistent and beautiful photo filters.
The site features an online shop for her photo presets or filters, that she's painstakingly perfected and uses herself. And her photo filters are something she does so well! Affiliate marketing to sell software as a service (SaaS) is great way to increase your website profits and to opening up your site to more eCommerce products. Further your eCommerce goals and profits using these excellent digital marketing tips from our latest Customer Story.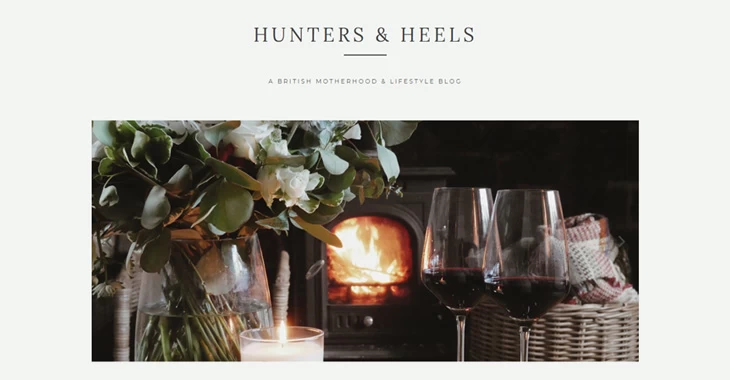 An English Rose by any other name wouldn't be as sweet as Lauren McDermott aka Hunters and Heels. This mother of 3 shares her life in the English countryside with beautiful photography paired with her incandescent positivity and relatability. This blogger is true to her name as she encounters the rustic with approachable beauty and self care.
The homepage of Hunters and Heels showcases lovely images in a slideshow form, scrolling from the photos of her quaint country home to her latest travels. Her minimal style and photography background are perfected in her site layout, and her accompanying YouTube tutorials and vlogs are an equal delight. Blog posts feature luscious photo after photo allowing the reader to truly feel like they've come along for an afternoon picnic at the park.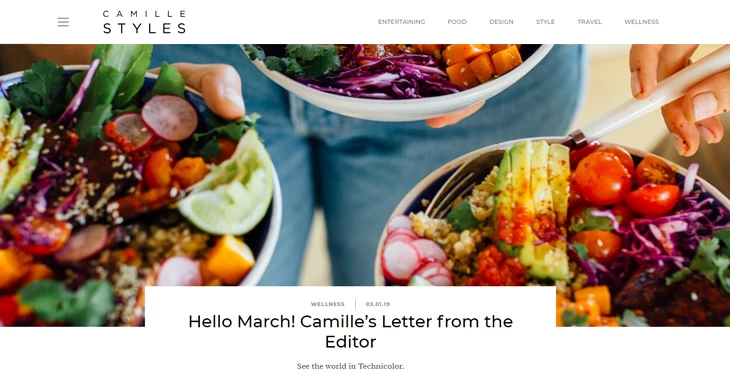 After recovering from a terrible car accident at the age of 25, Camille Styles decided to launch her own company and began her own lifestyle blog. 4 years later, she has created a powerhouse online lifestyle magazine, brilliantly weaving the stories of talented contributors to provide the ultimate inside guide from self-care to microneedling!
Camille Styles' landing page features a vibrant wide-screen photo of the latest blog of the day, and one scroll-through of the homepage shows a site chock-full of tantalizing headlines and professional photos. But the first step on the professional train, is to secure your site with an SSL certificate! Not only will you make sure yours and your client's privacy is secure, but it will also get rid of those pesky popups for visitors using Google Chrome saying they're visiting an unsecure site.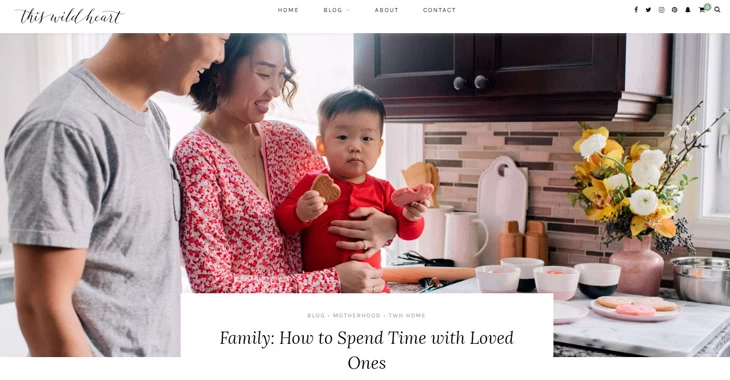 This Wild Heart's Esther Lee presents a blend of motherhood, travel, and food in a cinematic and airy lens, showing a deeper curiosity about the world and all of the good things in it. Scrolling through the impeccably shot photos, you'll come away with a feeling of tranquility, plus a few hot tips about travelling and living your best life with a youngster.
Every part of This Wild Heart is flawlessly in sync, from the minimal social media widgets to the perfect typography on both the headings and regular blog post font. The best way to make sure your lifestyle blog site will always look it's best and maintain the font you've painstakingly selected, is to ensure you host your Google Fonts on your server. It's not hard to do and will save you tons of time in the long run.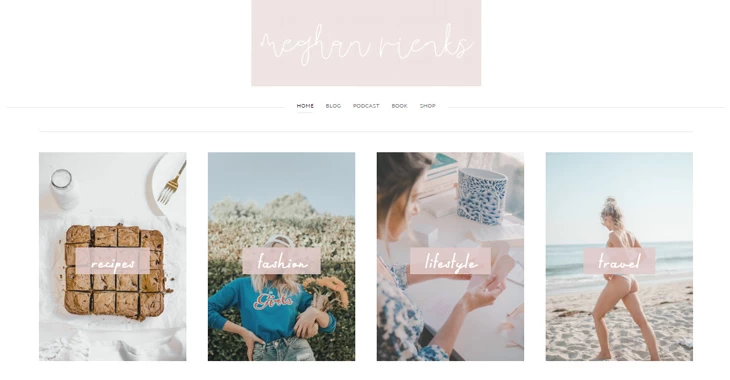 Refreshingly honest, sincere and raw, Meghan Rienks uses her combined 3.8 million following on YouTube, Instagram, and Twitter to speak openly about topics from mental health, female empowerment, as well as political and cultural issues. Although more YouTube focused, Meghan expertly uses the same chic yet minimal style throughout her various platforms and her lovely lifestyle blog is no exception.
Beautifully shot photos take the stage in her blog posts and are usually accompanied by a YouTube video at the end. Check out the way photos are laid out in each blog post. They are used to break up the text and helpfully give your eyes a visual break. Instead of the regular static banner image for a blog post, emulate the same image slider that is used below using the Slider Pro.
We hoped you enjoyed this top 10 lifestyle blog list! It is by no means exhaustive so we welcome you to list your favourites in the comments below! We'll update this post intermittently and keep adding more great lifestyle blogs, so stay tuned.
What other top 10 lists do you hope to see? We'll consider doing more of these for your enjoyment.